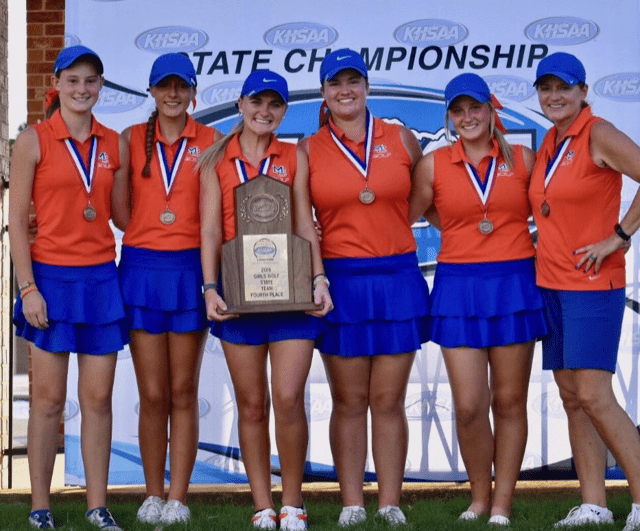 Marshall County's Lady Marshals golf team finished fourth in the state Wednesday when all the strokes were counted at the end of the two-day KHSAA Girl's State Golf Championship in Bowling Green. The tournament began on Tuesday with the first tee-time at 7:45 am off of hole #10 for Kenley Luksic followed by Sydney Phillips, Savannah Howell, Megan Hertter and Hallie Riley.
After completing the back nine, Howell led the way at +3, Riley +6, Hertter and Phillips +8 and Luksic +9. Hertter navigated the front nine to lead the way with three birdies and four bogeys to finish with a +9 score of 81 to lead the Lady Marshals. Howell and Riley both finished with 84 (+12), Phillips 90 (+90) and Luksic 91 (+91) for a team score of 339 and fifth place overall, making the cut for the second day of the tournament.
After day one, defending state champion Sacred Heart Academy led with a team score of 320 (+32). Eleven teams made the cut to play the second day, behind Sacred Heart Academy, Lexington Christian 324, Madison Central 327, Scott County 333, Marshall County 339, South Warren 340, Shelby County 345, Green County 345, Ryle 346, McCracken County 349 and North Hardin 352.
"Day one didn't go as planned", Coach Stephanie Fisk said. "We were full of nervousness and I believe our anxiety to qualify got the best of us. Hallie called a penalty on herself on 18 and after that it was extremely hard to regroup on the front nine. After day one, we really had to discuss how we were going to have to refocus for day two."
Play from day one was suspended due to darkness and finished up on Wednesday before the field was set and the top eleven teams teed off for the second day of play. The first tee time for the Lady Marshals was at 9:39 off of the first tee, paired with players from Scott County and South Warren.
At the end of the front nine, the Lady Marshals were led by Riley and Howell, each at +4, Hertter was +8, Luksic +10 and Phillips +14. Riley shot par on holes 10-16, and had double-bogey on 17 and birdie on 18 to finish her day with a 5-over round of 77 (84-77=161) tied for 20th. Howell had five bogeys on the back nine and finished the day with a 9-over 81 (84-81=165) in a four-way tie for 30th with Hertter who shot 84 (81-84=165) and also finished in a tie for 30th, Luksic shot 94 (91-94=185) finishing 61st and Phillips 102 (90-102=192) in 69th.
"Birdies were very scarce on Wednesday but I'm so extremely proud at how hard they fought to make up some strokes", Fisk said. "And in golf, every stroke counts."
Individual state champion was Laney Frye of Lexington Christian Academy who finished 2-over par in the tournament (72-74=146), three stroked in front of second place finisher Grace Clark of Shelby County at 5-over (76-73=149). Lexington Christian Academy took the team state title with a two-day total score of 639 (324-315). The team from Sacred Heart Academy finished runner-up with 647 (320-327), eight strokes behind Lexington Christian. Madison Central was third with 672 (327-345), just three strokes in front of the Lady Marshals with 675 (339-336). McCracken County finished 10th with 706 (349-357).
"These young ladies are so honored to be the first Marshall County girl's golf team to medal at state", Fisk said. "They have amazing strength and character and since the beginning of the season I have been calling them "The Dream Team." They absolutely have represented Marshall County and Western Kentucky well."