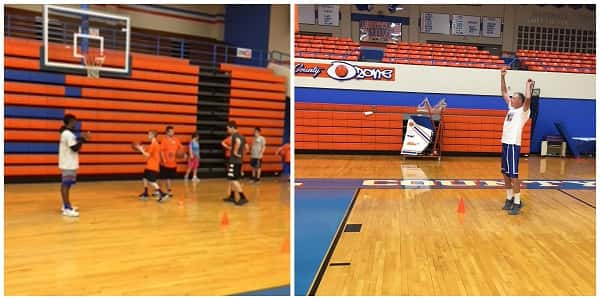 Marshall County Special Olympics basketball kicked off the upcoming season with the 3rd annual FUNdamentals basketball camp put on by Special Olympics coach Jonny Byrd and Marshals head coach Terry birdsong.
"Coach Birdsong has been very supportive of our program even before he became head coach here, so it was just natural to ask him to help out", Coach Jonny Byrd said. "Coach Birdsong brought three players and we had our coaches that ran four stations."
The camp is a tool to help division each athlete per ability to place them correctly on a team. There were 26 campers divided up by ability doing drills such as passing, dribbling, shooting, and rebounding.
"The main thing that I wanted to see was smiles!" said Coach Byrd. "The whole purpose of this camp was to provide a couple of hours where the high school players and our players could interact having fun with the game of basketball. Our athletes get so much out of that, and so does the high school players. Today was a good day for all involved! "