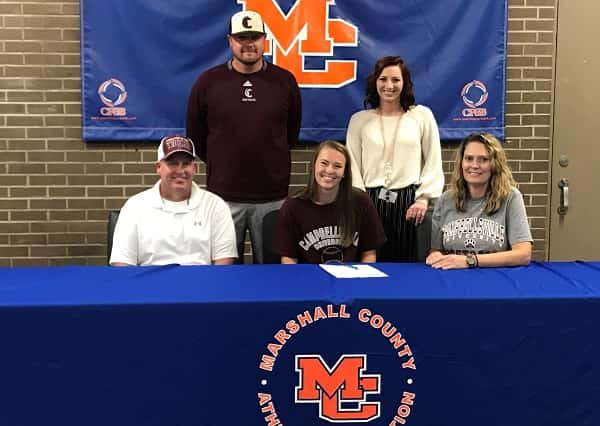 Marshall County High School senior, Addie Young, has committed to Campbellsville University. Young signed her letter of intent to play softball at Campbellsville on Thursday at Marshall County High School. Campbellsville University is a member of the NAIA and plays in the Mid-South Conference. The Lady Tigers were 47-10 last year and finished ranking 11th in the final national poll.
Some of Young's softball accomplishments are: All Purchase Team in 2017 and 2018, All Region Tournament Team in 2015 and 2018, All District in 2018 and All Academic All-State First Team in 2017 and 2018. She also maintains an impressive 4.13 GPA.
"Last season Addie lead our team in doubles, hit by pitches and had one of the least amount of strikeouts", Newton said. "She had an impressive .410 batting average and 31 RBIs. She came up with some big hits for us and her leadership in the box early in the season was key. In fact, Addie had an OBP of .504 for the season. I have had the pleasure of coaching Addie since she was in the 8th grade through travel ball."

"Throughout these years I have learned that Addie is not only an excellent ball player but she's an excellent teammate. Addie leads by example. She's a huge reason that we made it to state this year. She brought the team together during the regional championship game and was explaining how we need to play for the team rather than ourselves. Addie always wanted to be there. Every game no matter what. She was constantly trying to improve and be better for her teammates. I would catch Addie hitting extra off a tee before games or after a tough loss. She was always asking me for extra help and doing anything she could to improve her game. She played selflessly and she bought in from day one.  Because of these attributes I have no doubt that Addie will be a successful college softball player. In college it takes more than talent; it takes heart. Campbellsville is so lucky to have such a well rounded player. As a program we wish Addie Young the absolute best and we are so proud of everything she has accomplished now and will accomplish in the future."
Young is planning on majoring in Middle School Education at Campbellsville.
"Campbellsville felt like home", Young said. "They have a strong academic program and a first class softball program. It was exactly what I was looking for in a university." 
Addie is the daughter of Jacky and Julie Young of Benton.