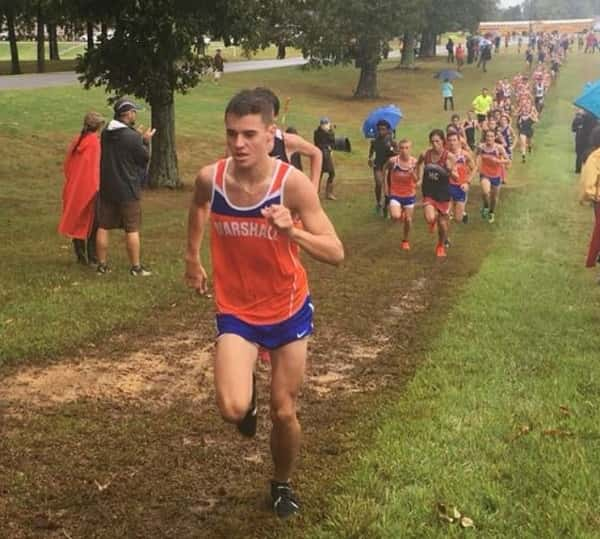 Almost 400 cross country athletes toed the line at Saturday's Marshall County Invitational and that number was just in the varsity girls and boys 5K races. Henry County, TN's Silas Winders crossed the line first in the boy's varsity race, stopping the clock in 15:52.09, Blake Morris of Cape Notre Dame, MO was second in 16:01.78 and Cole Davis of Henry County, TN third in 16:16.26.
The top finish for Marshall County came from Mason Cosner who finished eighth in the field of 216 with a time of 17:12.82. Also finishing in the top 25 for the Marshals, Ethan McCarty was 9th in 17:17.24, Christian Cosner 16th in 17:44.34 and Knox Sandlin 22nd with 17:52.31.
Henry County, TN took first, Marshall County second and McCracken County third among the 19 teams.
Another Winders from Henry County, TN, this time sister Dinah, a freshman, won the girl's varsity race in 18:44.38. Maggie Aydt of McCracken County was second in 18:55.23 and Kennedy Bauer of Jackson, MO third with 19:31.64. The top Marshall County finish came from Gabbi Lovett who finished 16th in a field of 151 with a time of 21:30.65 and Tarryn Story placed 39th in 22:48.74.
The girl's team from Jackson, MO took first, McCracken County second, Notre Dame, MO third and Marshall County placed sixth.
The cross country team will host the Mad Marshal Dash on Thursday.
Marshall County results:
| | | |
| --- | --- | --- |
| BOYS | | |
| Place | Athlete | Time |
| 8 | Mason Cosner | 17:12.82 |
| 9 | Ethan McCarty | 17:17.24 |
| 16 | Christian Cosner | 17:44.34 |
| 22 | Knox Sandlin | 17:52.31 |
| 31 | Samuel Lanham | 18:20.54 |
| 34 | Jackson Miller | 18:23.13 |
| 52 | Isaiah Kirby | 19:05.08 |
| 59 | Cade Flatt | 19:16.44 |
| 69 | Cole Wyatt | 19:32.52 |
| 92 | Will Davis | 20:10.79 |
| 96 | Devan Bradley | 20:16.80 |
| 126 | Justin Wilson | 21:18.54 |
| 154 | Avery Minter | 22:21.21 |
| 170 | Cameron Wiles | 23:35.67 |
| 202 | Grady Ward | 26:25.77 |
| | | |
| GIRLS | | |
| 16 | Gabbi Lovett | 21:30.65 |
| 39 | Tarryn Story | 22:48.74 |
| 55 | Zoie Swoope | 23:47.24 |
| 59 | Alexia Minter | 24:13.91 |
| 62 | Kaycee Kemp | 24:25.51 |
| 64 | Hannah Perry | 24:34.78 |
| 80 | Leah Vincek | 25:27.18 |
| 82 | Bella Barrett | 25:42.74 |
| 100 | Chloe Newton | 26:35.42 |
| 141 | McKenna Mott | 31:59.32 |