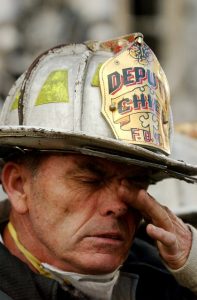 Submitted By Brandi Greenfield
9th grade algebra, sitting in a classroom inside Marshall County High School.  Our instructor turned on the TV and we watched, completely confused and dismayed, at what was happening on the screen. One boy laughed, and I still remember the fire from my throat to stomach when he acted so outlandishly.  Some cried, some talked and some were silent.  I was a mix of all 3.
My dad was in the airport in Nashville, waiting to fly to another job site, and it seemed as though the world was crumbling into pieces. 
Was he already on the plane? Was this happening to all the planes? Was it going to happen here?
To be honest, I thought I'd be writing about the Kaepernick issue this week, but I'm already burnt out on reading about it.  I'm sure you are, too. The division in this country is far more devastating and brutal than I can articulate with measly words in a few paragraphs anyway.  You know it's there; I know it's there.  I'll not feed the demons of empty caloric drama any more than necessary.
Today, as I write this on September 11, 2018, even that controversy is overshadowed by a strangulating smoke.
Did you know smoke can cast a shadow? Those of us who stared into the destruction, watched as it proved itself a tangible shadow, engulfing in darkness the plans, dreams and ideals of everyone it touched. 
The fires wildly burned far beyond the flames, until we were all choking with the air it had stolen. 
We found fresh air among one another, as we helped our neighbors, prayed for those affected with losses and searched for ways to pick up the pieces.  We were all in the same cloud of hurt together, so we all worked together to find our way out. 
I pray that the division we are facing doesn't need the same thread of evil to once againk stitch us back together.  Let's do it now.  Preemptively.  Let's have that same attitude of giving and overcome what might seek to destroy us before it ever has a chance to light the fire.  I challenge you to take a moment today to do something kind for someone else.  It doesn't have to cost money.  Compliment their shirt, smile at a stranger, leave an extra tip when you go out and eat (or- better yet- get one of those Crafted Coffees at the Calvert City Cracker Barrel- your waiter/waitress will LOVE you for it. Tell them I sent ya!), pay for someone's food in the drive through, say please and thank you, be patient with someone when their child is acting like they've lost their cotton pickin' mind in a public area, show mercy to someone who doesn't deserve it- whatever.  Don't wait until November to start counting your blessings or being one to someone else.
Tell a first responder "thank you."    
Rise above the smoke, even that which we can't see, before it has a chance to show its shadow.  You never know what kind of beacon someone else may be needing.  It doesn't always take a badge or a uniform to be a hero.