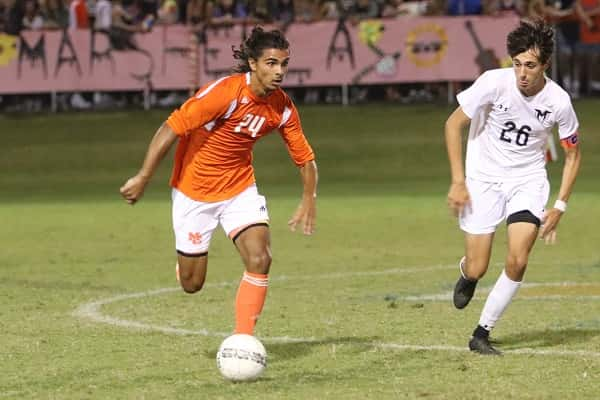 Murray High hasn't swept the Marshals in regular season district games dating as far back as at least 1999 but the Tigers accomplished that after their 3-2 win Tuesday at Colburn Stadium, a game that was extended into overtime after a 2-2 tie in regulation. After two five-minute overtime periods, a round of penalty kicks and in sudden death PK's, Murray's Ryan Messenger's kick was good while Jackson Dodd's was saved by Murray keeper Bradley Dawson for the win.
A very uneventful first half led to a polar opposite second half with four goals scored in under the first 13 minutes. Murray's Zak Mathis put the Tigers on the board first in the second half tied by Austin Stockdale just a minute later. Bryson Penn put the Marshals up 2-1 with a goal, tied by Mathis on a penalty kick following a foul in the box. Shots on goal by both sides in the closing minutes didn't find the net and the game went into overtime.
Following two scoreless five-minute overtime periods the game went into penalty kicks. Murray's Nick Bokeno started it off for Murray with a goal, tied by Daniel Gardner and it was 1-1. Charles Pemwell and Jarrett Wiles both with successful PK's makes it 2-2. Mathis and Bryson Penn keep it going in round three, 3-3. In round four, Michael Michael and Eric Hicks both had their kicks saved and it remained 3-3 going into the fifth round when both Murray's Trevor Harrison found the net as did Austin Stockdale for a 4-4 tie to move on to sudden death penalty kicks. In sudden death, Messenger's was good, Dodd's was saved and that was the game.
"We felt a lot more prepared and they did the exact same thing…while that might not be the most aesthetically pleasing soccer and might not be the funist way for a team to play, they get results", Head Coach Donnie Heath said. "When we were down a goal, I liked the way we responded. We had chances in the game…we had changes in the two five-minute sudden deaths. I liked the way we played tonight much more than we did when we were at their place. What we told the boys after the game, this can be a season defining game but we don't have to let it be a season defining loss in the sense of if we learn from it and we get better."
Heath added,  "When you go to the sixth, seventh shooter at that point it is what it is. I like the guys we put out there and I told them afterwards, we do it again and you guys are going to have the same chance. Overall, everything that we wanted to do tonight we did, except just score one more goal than they did in regulation and sudden death."