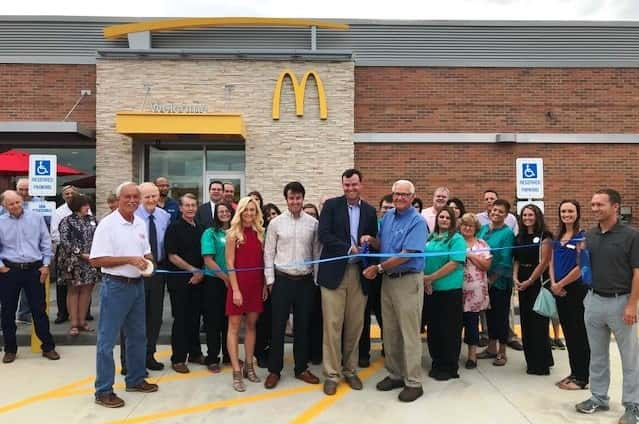 The iconic Golden Arches of Calvert City are back with a fresh and modern look. The Calvert City McDonald's will unveil its dynamic redesign during the grand opening at 7:00 am on Thursday, September 13. The first 100
dine-in customers will receive cards giving them free Big Macs for a year.
"We're so happy to be back in Calvert City," said Mike Love, owner/operator. "We are excited to bring this new restaurant that speaks to the needs of our customers and our community. We wanted to transform the McDonald's experience into an even better one for our customers."
The newly built restaurant replaces the 26 year old building that was destroyed in a fire in January. The location will be the first of its kind for area McDonald's featuring state-of-the-art technology, dual lane drive through, and a modern lobby featuring seating for quick dining as well as lounge-style seating for groups of diners. Mobile registers in-store will allow guests to order their meal just the way they want and table service will give guests a more relaxed dine-in experience. Mobile ordering, pay and pickup will also be available through the McDonald's app.
To celebrate the grand opening of Calvert City, McDonald's will offer food specials and all day prize giveaways on September 13. Additional food specials will be offered in the following weeks as well as Family Night on September 18 with $1.99 Happy Meals and the Balloon Man creating balloon art from 5-7 pm.