"Two Gun" Coy Thompson
Written by Justin D. Lamb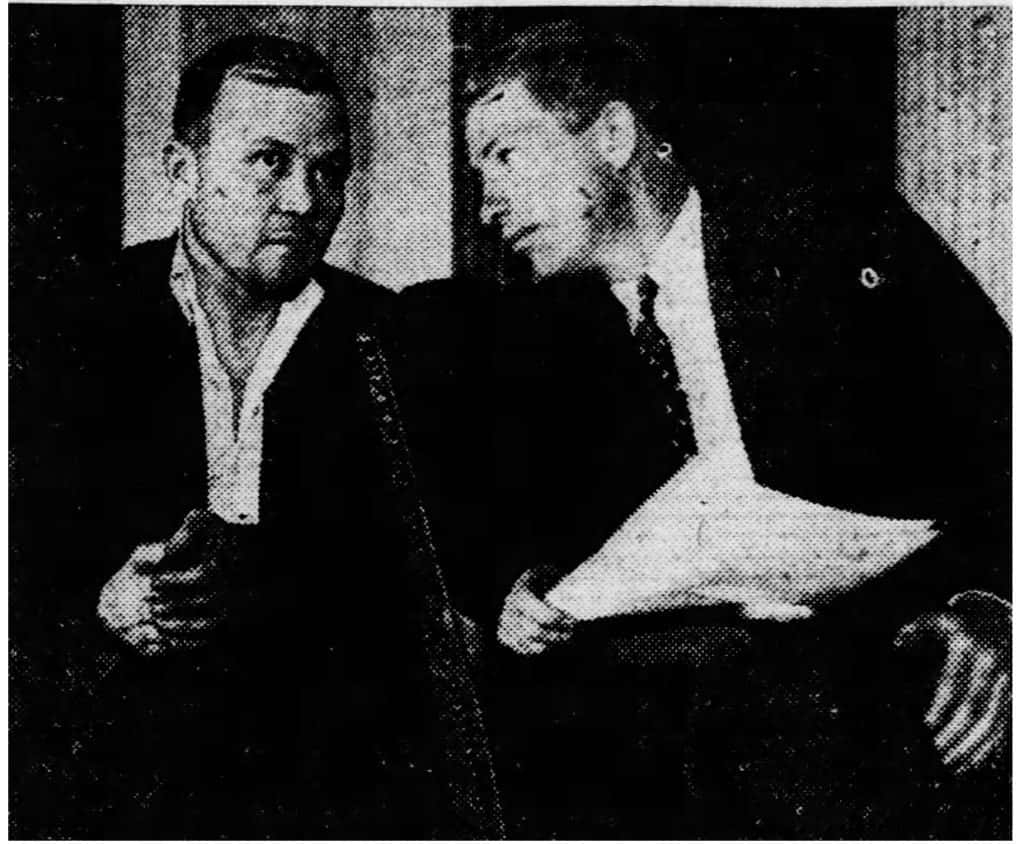 Newspaper photo taken of Coy Thompson (left) on the day of his trial in 1931.
(Photo courtesy of the Olean Herald)
Three hours and twenty three minutes is all it took to indict, try, convict, and sentence Marshall County native Coy Thompson for the murder of policeman James Casey in a Chicago courtroom in the summer of 1931. Newspapers all over the country were calling the trial one of the speediest in American criminal history, and as word traveled back to Marshall County, many who knew Thompson were not surprised that he had landed himself in the penitentiary for murder.
Coy Thompson had always lived his life with one foot over the line. He stayed in trouble with the law for most of his life which caused to him leave his home in Marshall County to join the army in 1918. After being discharged, Thompson went to Detroit, but fell on hard times, so he later settled in Chicago where he began to use crime as a way of living. Story has it that Coy Thompson ran with Al Capone while in Chicago.
On the afternoon of Tuesday, June 30, 1931, Thompson and his roommate Elzie Brown held up a lunch room diner in downtown Chicago at gun point. That night, Thompson and Brown went out on the town to celebrate with the cash they stole from the diner. After a night of heavy whiskey drinking, Thompson began to stumble his way back to his apartment on Berkley Avenue. Before arriving home, Thompson came across eighteen year old Frances Boskey at the corner of 43rd street and Oakenwald Avenue near the railroad tracks in Chicago. Boskey was waiting on her boyfriend, Bert Bobb, to pick her up when Thompson began making inappropriate remarks toward her. Thompson grabbed Boskey and demanded that she go home with him, but Boskey refused and demanded that he let her go. Boskey screamed which gathered the attention of her boyfriend who was walking up the street. As Bobb came up the street he witnessed Thompson grabbing his girlfriend and he ran up and shoved Thompson. Thompson pulled a gun from his belt and told Bobb to back off.
Patrick Carroll, a passerby, witnessed the altercation and hailed down Patrolman James Casey, a Chicago traffic cop, in order to keep the quarrel from escalating. Patrolman Casey broke up the fight, confiscated Thompson's gun, and arrested him for public drunkenness. As Patrolman Casey began to take Thompson to jail, he stopped to answer a ringing patrol telephone box when Thompson broke away, pulled out a second pistol from his belt, and shot Casey several times. Thompson fled the scene as many rushed to help Casey who fell to the ground. At 7 o'clock the next morning, Casey died at a nearby Chicago hospital from the five wounds he relieved to the chest and stomach.
A manhunt was quickly organized and two squads were sent to Thompson's apartment on Berkley Avenue. Thompson was later arrested without incident and the revolver used to kill Casey was found under Thompson's bed. A few officers took their turn beating on Thompson before taking him to the station where several identified him as the assailant. Newspapers all across the country picked up on the story and Thompson became labeled in the press as "Two Gun" Coy Thompson. The Chicago Police Department demanded the courts take swift action against Thompson for the murder of one of their own.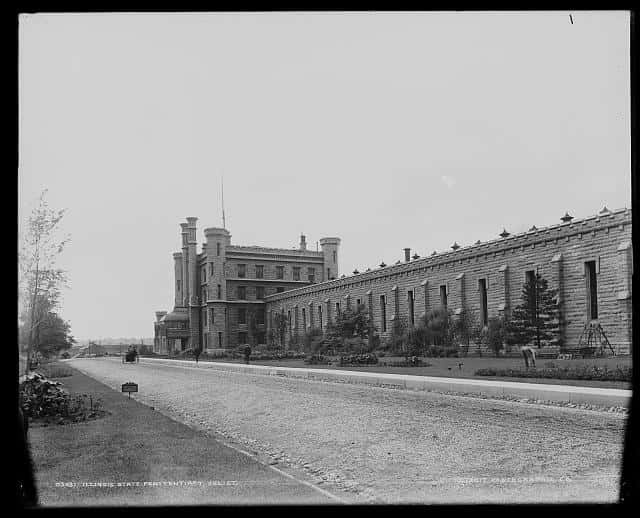 Joliet State Penitentiary where Coy Thompson was sentenced for the murder of Police James Casey.
(Photo courtesy of The Clarence Darrow Digital Collection)
On Monday, July 6, 1931 at 12:10pm, the Cook County Grand Jury indicted Thompson on murder charges. At 1:30pm that afternoon, Thompson went before Judge Philip J. Finnegan where he waived a jury trial and pleaded not guilty. To speed the trial, state prosecutors refrained from asking for the death penalty. Without an attorney, Thompson testified in his own behalf and admitted to being intoxicated but stated that he did not recall shooting Casey. Contrary to Thompson's testimony, several witnesses testified and identified Thompson as the killer of Casey.
At eight minutes after three o'clock, Thompson was found guilty and Judge Finnegan sentenced him to 100 years in the Joliet Penitentiary. Judge Finnegan also included in his sentence that on each of the anniversary of the murder, Thompson was to be placed in solitary confinement for twenty four hours. The conviction of "Two Gun" Coy Thompson remains one of the fastest trials in American criminal history.
Thompson remained in prison for nearly thirty years until he was released on parole in 1960. He returned home to Marshall County, but found that his reputation as Chicago gangster had followed him. After a few minor run-ins with the law, Marshall County Sheriff Sam Myers convinced Thompson to move out of the county. Thompson took Sheriff Myers' advice and ultimately settled in Oklahoma in the mid-1960s and lived there with his wife until his death in 1976.