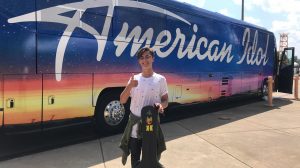 They say lightening never strikes the same place twice, but only months after Marshall County native Kaleb Lee wowed the audience on NBC's The Voice, another Marshall County young man is making waves on the music scene. MCHS junior, Carson Denfip, has advanced through the first round of auditions for the upcoming season of American Idol.
Denfip first learned of the auditions through the show's Instagram page. Chattanooga, TN was the closest location to him so he and his mother, Krystal made the trip. They arrived at 4:30 AM to wait in line for a chance to sing for the preliminary judges. Four hours later, Denfip was taken in with a group of four other Idol hopefuls and were given 90 seconds each to sing part of  song to impress the judges. Carson was the last of his group to perform singing "Too Close" by Alex Clare.
Then something happened. The judges immediately asked Denfip to sing an additional song. Something that wasn't requested of anyone else in his group. Denfip said "I knew I needed something that had a lot of power right off the bat, and to be able to show control because we were in such a big room". With that, he began to sing "Tennessee Whiskey" by Chris Stapleton.
The others in his group were dismissed and only Denfip was asked to stay behind. An executive producer appeared and escorted him to "the winners circle". Over the course of the day only 18-20 people advanced to this point out of some 3,000 who came to audition.
Denfip will travel to Atlanta, Georgia for the second round of auditions on September 20 with executive producers from the show. He will find out that day if he will advance to audition for the celebrity judges.
At 16 years old, Denfip has only been playing the guitar for 2.5 years.
"It started with singing. I went to my church and I sang for a get together. They said it was really good and it just went from there." he explained.
When asked what he would want people to know about him if he were to make it onto American Idol, he said "My main focus is mental health awareness, after the shooting at Marshall County. I just want to make sure everybody is happy at school after something like that." Carson added that he himself struggled with some anxiety after undergoing back surgery to correct scoliosis in 2017, adding to his passion for bringing awareness to the topic.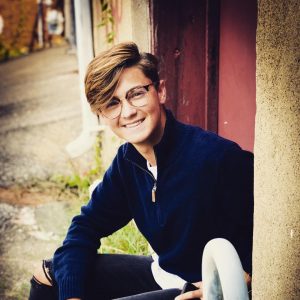 With the second round of auditions approaching he says he is more excited than nervous but is ready for the date to arrive.
Marshall County Daily will be bringing you live video updates on our Facebook page the day of his second round auditions.