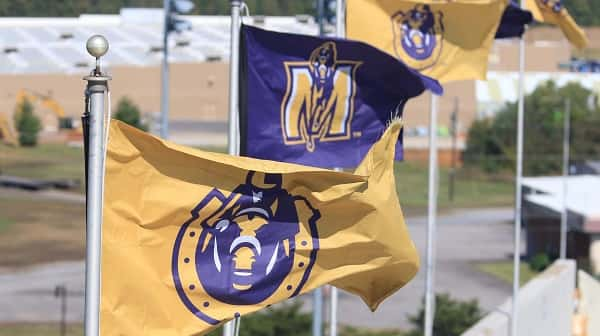 MURRAY, Ky. – As Murray State Athletics is only in the first month of a big school year, there are many new digital editions the Racer external staff have added to make the fan experience even better in the 2018-19 school year.
In the past month, a new app for game days, a weekly video blog and podcast and a centralized area on GoRacers.com for downloadable posters, wallpapers and social media banners have been added. Additional digital offerings include the Ohio Valley Conference partnering with ESPN+ for all live game streaming.
The Racer Game Day App
Fans can find Racer Game Day in the iTunes app store for free. The app features information exclusive to a particular MSU game including fan specials, game programs, game notes as well as rosters and schedules for each team. Of course GoRacers.com is a great place to find these items and more, but the Racer Game Day app allows fans to get information quickly on game days and get information about the day's game.
Running with the Racers Podcast
The first posting of the Running with the Racers podcast is Wednesday (Aug. 29) on GoRacers.com. Host Dave Winder catches up and explores the personalities of the Racer Greats, both current and past, players and coaches who have left their mark on the athletics history here.
Racer Vlog on IGTV
MSU Athletics' video operations team started a new series, chronicling the different behind-the-scenes happenings with the Racers and their student-athletes. The series, posted every two weeks, is available on Instagram TV, a new long-form, vertical platform through the social media app. Every person in MSU Athletics plays a role in telling the story of what it means to be a Racer. As the series grows throughout the year, there will be themes to each episode, but the overall format will be creative, freeform and different than anything done before and matching the new platform that IGTV presents.
Marketing and Promotion Central
GoRacers.com has a new page that helps keep fans in touch with the many promotion items that are available at games like the recent free lemon-shakeups stand at Cutchin Field during a MSU Soccer match. There is also a page that is full of free downloads including posters, wallpapers and social media banners.
Game Day Guide – A to Z
The content in this A to Z Guide is to assist guests and patrons visiting Murray State University with all things RACER GAME DAY! Can't find what you are looking for? Contact Facilities and Game Management today at msu.gameday@murraystate.edu
OVC Becomes Partners With ESPN+
As was announced by the Ohio Valley Conference, the league is partnering with ESPN+ to live stream more than 600 live games in the 2018-19 school year. The Racers' first ESPN+ event is Thursday's home football game with Southern Illinois. The sports of soccer and volleyball will see regular season contests air on the OVC Digital Network this fall before ESPN+ becomes the exclusive streaming home of Ohio Valley Conference productions and features exclusive regular-season and OVC Championship broadcasts.
Under the arrangement, the OVC Men's basketball championship game will continue to air on either ESPN or ESPN2, with ESPNU and ESPNNews broadcasting additional events. Additional linear opportunities are included, and the OVC will maintain its exposure on ESPN3, including a Football Game of the Week.
Fans can subscribe to ESPN+ for just $4.99 a month (or $49.99 per year).