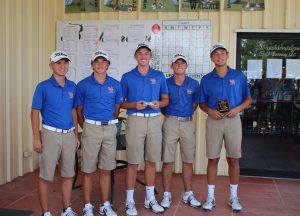 The Marshall County boys golf team traveled to Morganfield, KY to compete in the Union County Invitational at Breckenridge Golf course (par 72) on Saturday.  The weather was full of sunshine however windy conditions existed with gusts up to 25 mph.  These blustery conditions did not hamper Jay Nimmo's round as he led the Marshals to the victory by shooting a three under par, 69.
The Marshals had a team score of 311 followed by Daviess County 331 and Muhlenberg County at 334.  Nimmo's score of 69 earned him medalist honors for the tournament.  Teammate Tyler Powell shot a three over par, 75 for third place.  Daviess County's Jesse Holton was the 2nd place individual a score of 73.
Marshals individual scoring: Jay Nimmo  69, Tyler Powell  75, Nathan Clark  79, Camdyn McLeod  88, Drake Butler 91, Trey Wall, 8th grader from NMMS competed as an individual and shot 88.
Team scoring: Marshall County   311, Daviess County   331, Muhlenberg County   334, Hopkins County Central   341, Ohio County   344, Madisonville/N Hopkins  349, Owensboro Catholic  351, Henderson County   353, Union County   361, Owensboro Senior   374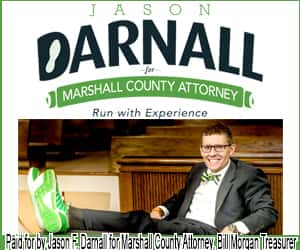 "I was very proud of our team's effort today considering the windy conditions of 20 to 25 mph", Coach Keith Bell said. "Most of the field of players were adversely impacted by the wind but our players were able to play through it.  Jay told me prior to the round that he liked playing in windy conditions and he proved it with today's score."
"Tyler had a tough start to his round with bogeys on two out of his first three holes but followed that with back to back birdies and was able to grind it out the rest of the day.  I was really proud of Nathan today as he broke 80 for the first time this season.  He was hitting his irons really well and his score was indicative of that.  Camdyn and Drake battled through their rounds but never gave up which is what a coach looks for in a player."
Up next for the Marshals: Thu August 30th  Match vs Calloway and Massac Co at the Oaks Country Club in Murray.  Sat September 1st  Marshall Co Invitational at Calvert City Country Club….Come out and see the best golfers in Western Kentucky battle it out, a preview of the post season regional tournament.  Boys will tee of at 7:45 am and the girls will tee off at 1:30 pm.