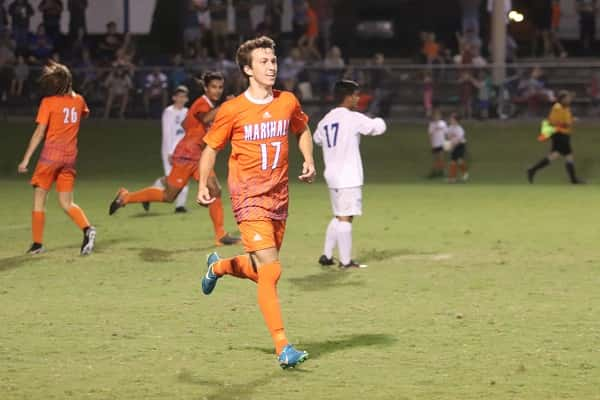 Bryson Penn scored on a header three minutes into the Marshals district game against Graves County, followed by a goal before halftime by Eric Hicks for the 2-0 lead. Penn scored his second goal of the game early in the half and added his third goal late in the half in the Marshals 4-0 shut out and Penn's fourth hat trick in the Marshals first six games.
The win moves the Marshals to 5-1 and 2-0 in district play. Assists in the game went to Penn and Gardner. The Marshals had 20 shots in the game, eight on goal and three corners with three saves by Tyler Belcher, all in the first half. The Eagles had eight shots, one on goal and five corners and picked up three yellow cards in the contest.
In post-game comments, Head Coach Donnie Heath said, "While tonight was our night, we've got to treat every game like it's the last one so when we see them again here in about a month or so they'll be ready so we need to be ready again."
Heath added he was proud of the team, top to bottom and they would enjoy the win but when they wake up in the morning, they will have to start thinking about their district game against #6 ranked Calloway County on Thursday.