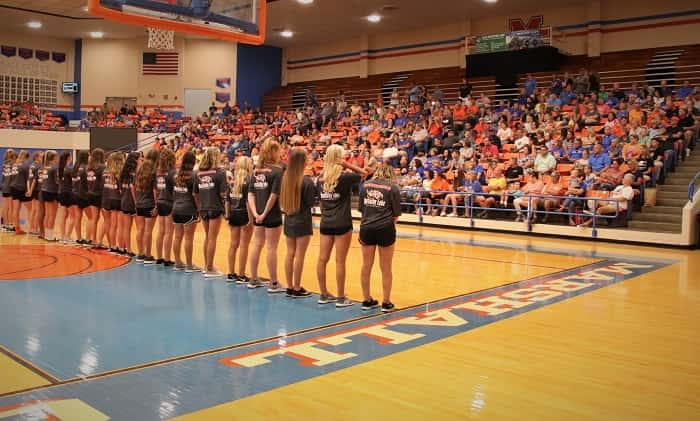 Meet the Marshals was held Friday evening at Reed Conder Gymnasium, introducing the 2018 fall sports teams. The  golf team season is well under way with several scrimmages coming up over the next couple of weeks for soccer, volleyball and football.
Coaches introduced their teams starting with girls soccer, cheerleaders, dance team, football, boy's soccer, cross country, mountain bike, volleyball and boy's golf.
The football team will play their first scrimmage at McCracken County Saturday and will kick off the 2018 regular season August 17th at home against Fort Campbell. Regular season begins for the volleyball team on August 7th at Community Christian Academy, boy's soccer August 13th at Paducah Tilghman, girl's soccer on August 14th at St. Mary, cross country August 21st in Owensboro and the mountain bike team will begin their season September 23rd at Chickasaw Trace in Columbia, Tenn.
The boy's golf team has already played in five tournaments while the girls have played in four, including the Lady Bruin Tournament in Elizabethtown Friday and were traveling back to Marshall County during Meet the Marshals. The next match for the boys is at Calvert City Country Club on August 6th and the girls will tee it up on August 9th at Kentucky Dam State Resort Park.