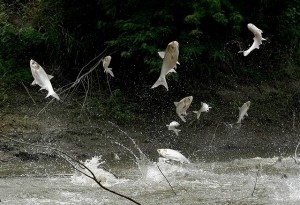 WASHINGTON (KFVS) – U.S. Senator Mitch McConnell has secured a provision in the Senate Interior Appropriations bill to combat the spread of Asian Carp in both Kentucky Lake and Lake Barkley.
The bill which was passed by the Senate Appropriations Committee and now must be approved by the full Senate.
The legislation also provides $11 million dollars, a $600,000 increase from last year's enacted level. for the U.S. Fish and Wildlife Service to control Asian Carp in both lakes and the larger Mississippi and Ohio River Basins.
"Fishing is a multi-billion dollar industry in Kentucky, pumping an estimated $1.2 billion into the Western Kentucky economy alone, said Sen. McConnell. "Kentucky Lake and Lake Barkley are popular fishing areas that are being threatened by the existence and the spread of Asian Carp, and we must protect them. Not only are these fish a danger for the local economy, they are also a safety hazard for anglers and boaters. There are a number of important priorities that come before the Senate, but as Senate Majority Leader, I am able to bring a national focus right here to Western Kentucky to protect our vital interests."
"I was proud to work with Lyon County Judge/Executive Wade White who continues to be a leader on this issue in the community. I also appreciate Marshall County Judge/Executive Kevin Neal and his staff for relaying their concerns regarding the spread of Asian Carp in the area. I will continue to work closely with them and other community leaders as we move this legislation through Congress."
"Asian Carp have invaded Kentucky and Barkley Lakes and put our fishing and tourism industries in jeopardy. We must take action and solve this problem. I greatly appreciate Senator Mitch McConnell, as Senate Majority Leader, helping us solve this urgent problem by specifically protecting these lakes in the government funding legislation," said Lyon County Judge/Executive Wade White. "This is a very important first step for Kentucky and Tennessee, and it can become a model for other states to follow. I look forward to working closely with Senator McConnell over the coming months as we defend these vital waters."
"Marshall County recognizes the importance of controlling the population of Asian Carp in its waterways including Kentucky Lake, Lake Barkley, and the Ohio River. We greatly appreciate that Senator McConnell has brought national attention to these Kentucky waters in the Interior Appropriations Bill to help control Asian Carp in the Mississippi River and Ohio River Basins," said Marshall County Judge/Executive Kevin Neal.  "We are encouraged by Senator McConnell's support, and we look forward to working together with him on future projects to control Asian Carp in our waterways so our citizens can enjoy our community's pristine natural resources."