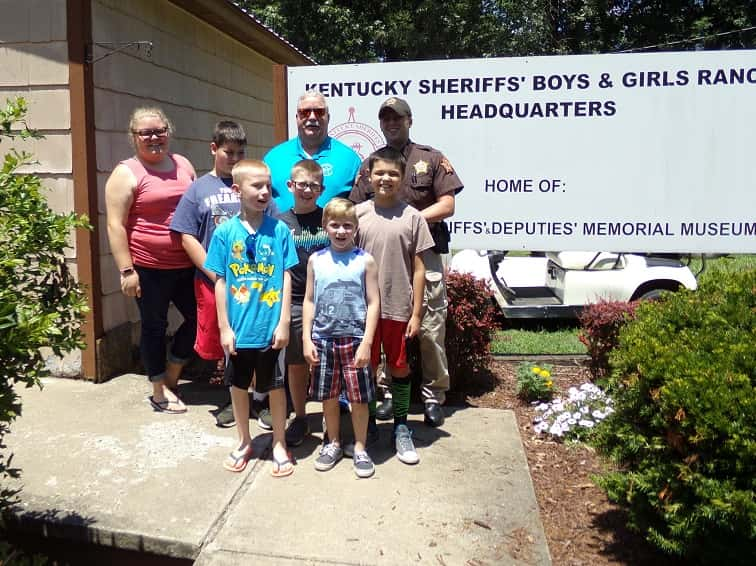 The summer camping program at the Kentucky Sheriffs' Boys & Girls Ranch officially opened to campers for their 43rd camping season on Sunday, June 10th. The camp runs throughout June and July, serving both boys & girls alternating weeks, throughout the camp season.
The Boys & Girls Ranch is a non-profit organization, serving Kentucky's youth through a camping program designed to build their self-esteem, while teaching them respect for themselves, others and law enforcement professionals. The camp is free to the campers, thanks to the dedication and support of our Sheriffs, members and contributors. The cost of serving the children costs about $500.00 per week per child. With continued donations and support from our contributors, we will continue reaching Kentucky's youth. Remember, 100% of your donation(s) directly benefit the camp.
"In addition to our regular camp activities such as arts & crafts, nature, sports, swimming, fishing, archery, we've added a couple of new things this year….we have a new bike/hiking trail for the campers to use and a new Gaga Ball Pit! Both have been big hits so far! The campers also enjoy visits from local volunteer organizations, which include a fire safety program by the Gilbertsville Fire Department, a drug awareness education program by the Marshall County Sheriffs' Office, and the McCracken County Child Watch program," Wagner said. "It is a week filled with fun and learning and our hope is for the campers to create a lifetime of memories during their stay, as well as learn the values of respect and other life skills."
Wagner added, "On behalf of the campers and staff, we send our heartfelt thanks to everyone who has helped – not only this year, but since our inception. Were it not for all of you, we would not be able to continue to make a difference in the children's lives and your support is greatly appreciated."
Boys in attendance the week of July 8th are from the following counties: Boone, Boyle, Bracken, Calloway, Carlisle, Clark, Crittenden, Hancock, Henderson, Henry, Madison, Marion, Marshall, Nelson, Pendleton and Shelby.
For more information about the Boys & Girls Ranch or how you can invest in a child's life and help build Kentucky's youth, call the Ranch at 270/362-8660.