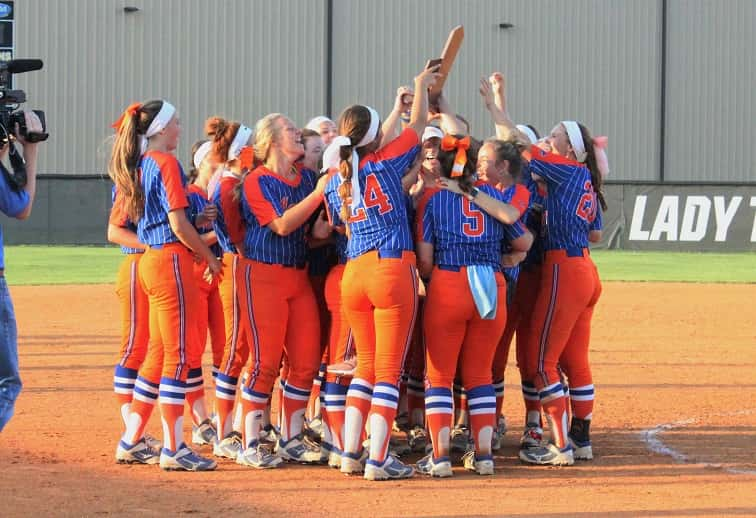 For the first time since 2009, the Lady Marshals have won the First Region Championship, and the first time since 2014 that someone other than McCracken County has claimed the title. First-year Head Coach Mallory Newton was an eighth grader on that 2009 team that beat Ballard Memorial along with Assistant Coach Jordan Gilland who was a senior.
"It's really surreal because the last time I was here experiencing this I was a player", Newton said. "I was in eighth grade, playing with Jordan Gilland actually, my assistant coach. But it's not about us, it's about the girls and they deserve this more than anything in the world. They've overcome adversity this year with grace and class. They've experienced so much and my heart is so happy that they're able to feel this and know what it's like because they deserve it more than any group of kids. I couldn't have hand-picked a better group of kids who bring grit and competitive drive to every single game."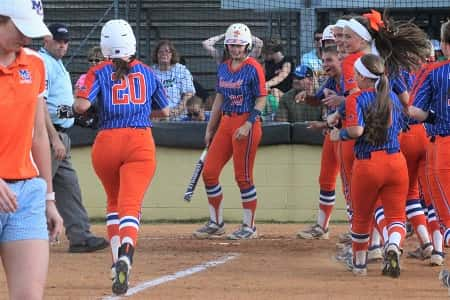 Their 5-4 victory over Ballard Memorial was hard-earned after trailing 2-0 after two innings. Ballard's Anessa Green hit one over the fence to put the Lady Bombers up 1-0 in the second inning, then took a 2-0 lead on a sacrifice by Rianah Fields in the third.
Addie Young hit a solo home run in the top of the fourth to put the Lady Marshals on the board and they tied it 2-2 in the top of the fifth on a passed ball that scored Kaycee Kemp.
The Lady Bombers went back on top 3-2 in the bottom of the fifth, scoring on a single by Madi Nichols. In the top of the sixth with one out,  Gracey Murt knocked one out on the second pitch to tie the game at 3-all and with two runners on, another passed ball by the Ballard Memorial catcher gave Sarah Stokes an opportunity to score and McKenzie Elkins came in on a ground ball by Kemp to lead 5-3.
Leah Shelley, the first batter up in the bottom of the sixth for Ballard, hit the fourth solo home run of the game to cut the lead to one. Shelby Elrod retired the first three up for the Lady Marshals in the top of the seventh and they went to the bottom of the inning needing just three more outs for the chance at the region title.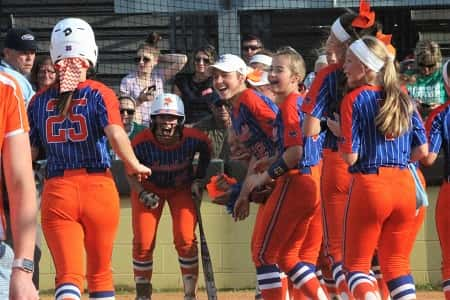 With Gabbi Lovett on the mound in relief of Aubree Jo Kemp who pitched five good innings, the first two batters up popped up on the first pitch and they were one out away. A ground ball scooped up by short stop Cayson Conner with the throw to Young closed out the game and earned the Lady Marshals a state tournament berth.
Newton said her players really stepped up and she was especially proud of veteran juniors, Addie Young and Gracey Murt and the composure of Lovett on the mound in the final two innings saying, "They stepped up…they were mad that this wasn't going the way we wanted it to. They got up to the plate and they had a ton of grit and they said we're going to end this thing right here…and that's exactly what they did."
"They hit very well and we just had to grit it out and keep playing through it all", Young said. "Me personally…I got mad. I was like I need to take control of my bat and I need to get stuff done for myself and my team. I just got up there, I knew what I needed to do and I got it done."
Murt also applauded the effort of Kemp on the mound saying, "she comes in strong at the beginning of the game and through the middle, throws strikes to keep us ahead in the count and Gabbi does a really good job coming in at the end of the game and finishing it for us."
"We really need to stay positive and we just need to realize it really doesn't matter who we play, we're playing for ourselves and everybody else", Murt said on the trip to the state tournament.
Newton said it's really important that the team doesn't think they have to do something epic in the state tournament and just continue to play their ball.
"We've beat top 10 teams all throughout this season", Newton said. "We've been ranked 12th in the state. We've got this, we can do this. They just have to believe it."
Aubree Jo Kemp was selected First Region Tournament Most Valuable Player. All Tournament Team selections: Shelby Elrod (Ballard), Addie Young (Marshall), Lakyn Largent (McCracken), Kristen Wimsatt (Graves), Angela Gierhart (Murray), Anessa Green (Ballard), Presley Jezik (Marshall), Mallory Myers (Tilghman), Lindsey Carroll (McCracken), Maddie Martin (Carlisle), Rianah Fields (Ballard), Gracey Murt (Marshall), Cassidy Payne (Graves), Gracie Lusk (Hickman)
Play begins Thursday for the Lady Marshals in the KHSAA State Softball Tournament at Owensboro's Jack C. Fisher Park but they will have to wait until Saturday to find out who their opponent will be. They will play the Second Region champion and that tournament is still under way with semi-final games resuming Friday between Madisonville North Hopkins/Christian County and Caldwell County/Crittenden County.
Marshall  0 0 0  1 1 3  0  5 5 1
Ballard     0 1 1   0 1 1  0  4 8 1
HITTING
Marshall: Murt 1/3 (HR, RBI), Young 2/2 (HR, RBI), Piercefield 1/3, K Kemp 1/3 (3B, RBI)
Ballard: Elrod 2/4, Fields (RBI), Nichols 1/3 (RBI), Shelley 1/3 (HR, RBI), Cooper 1/3 (2B), Green 1/3 (HR, RBI), Tabor 1/3, Dowdy 1/2
PITCHING
Marshall: Kemp (W) 5.0 (7 hits, 4 runs), Lovett 2.0 (1 hit, 0 runs)
Ballard: Elrod 7.0 (5 hits, 5 runs)