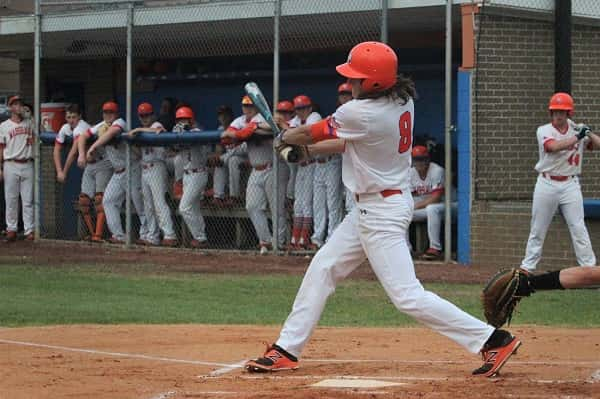 The Marshals opening game in the Region 1 Tournament against Mayfield took two days to complete. It began on Monday, stopped due to weather in the fourth inning and finished up on Tuesday with the Marshals taking a 14-4 win to move on to the semi-finals. Weather permitting, the semi-final game is scheduled for Thursday at 7:30 at St. Mary and the Marshals will face the winner of today's 5:00 McCracken County/Hickman County game.
The Marshals jumped out to a 6-0 lead in the first inning Monday. A walk to Ty Buchmeier, Jacob Landis was hit by a pitch and walk to Cole Griggs prompted a quick pitching change by Mayfield from Jaden Stinson to Conner Guthrie.
Guthrie walked Dalton Andersson which brought in the Marshal's first run. A single by Tyler Belcher scored run number two followed by an RBI sacrifice by Dawson Smothers, RBI ground out by Jordan Riley, and RBI singles by Austin Stockdale and Jackson Beal to end the 6-run inning.
Mayfield got on the board in the top of the third, scoring on an error and the Marshals added one more in the inning on a double by Riley for a 7-1 lead. Mayfield scored in the top of the fourth before the skies opened up and the game was postponed to Tuesday where they picked back up in the fourth and added two more runs on bases loaded walks.
A single by C.J. Johnson and double by Andersson brought in two runs in the bottom of the fourth to give the Marshals a 9-3 lead and with bases loaded in the bottom of the fifth, Mayfield made their fourth pitching change to Ben Gloyd. A wild pitch brought in Beal, a walk scored Buchmeier and Johnson scored on an error for a 12-3 lead.
Mayfield added a final run in the sixth inning before the Marshals finished it off in the bottom of the inning on a double by Buchmeier and the game-winning walk-off double by Johnson for the 6-inning 14-4 win.
Skyler Brown and Jordan Riley shared pitching duties, each working three innings. Brown picked up the win, allowing one hit, two runs and struck out four.
Mayfield  0 0 1  2 0 1   x   4   3  1
Marshall  6 0 1  2 3 2  x  14 14 2
HITTING
Mayfield: Hurt (RBI), Guthrie 1/3 (2B, 2 RBI), Couch 2/2
Marshall: Buchmeier 3/3 (2B, RBI), Johnson 2/2 (2B, 2 RBI), Andersson 1/2 (2B, 3 RBI), Belcher 1/4 (RBI), Smothers 1/3 (2B, RBI), Riley 1/4 (2B, 2 RBI), Stockdale 1/3 (RBI), Beal 4/4 (RBI)
PITCHING
Mayfield: Stinson 0.0 (0 hits, 3 runs), Guthrie 3.0 (6 hits, 4 runs), Price 1.2 (5 hits, 5 runs), Gloyd 1.0 (3 hits, two runs)
Marshall: Brown (W) 3.0 (1 hit, 2 runs), Riley 3.0 (2 hits, 2 runs)