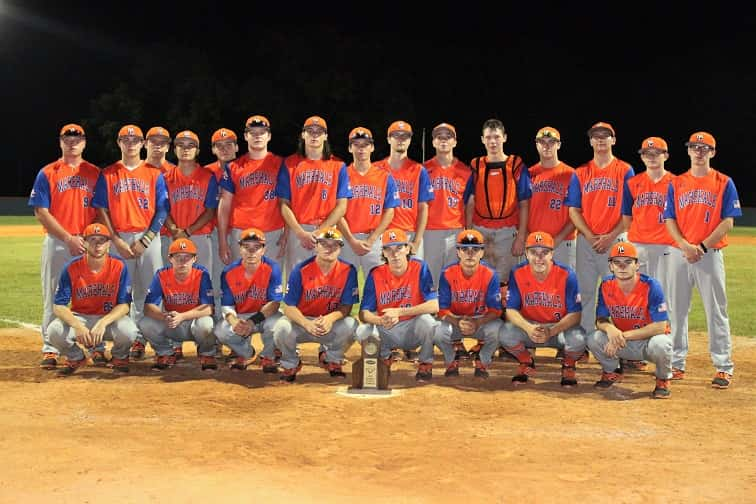 In his final at bat on the Marshall County field, senior Jackson Beal's 2-run double that looked very much like a triple with the third run scoring on an error, gave the Marshals a 4-0 lead in the bottom of the sixth that held up to win the 4th District Championship over Calloway County.
"I was thinking hit one hard and low because all we needed was to get a ball in play there and score a run", Beal said. "Off the bat I was thinking it was a sac fly then the ball carried pretty well and we ended up scoring three runs off of it."
Head Coach Rob McDonald said of Beal's hit, ""He comes up in a huge situation. We had been leaving men on base and hadn't been capitalizing and he comes up in that situation and hits a 3-run triple off the wall."
"This is a great team", Beal added. "We have so much fun together as a team and it's a good way to end my last at-bat at this field."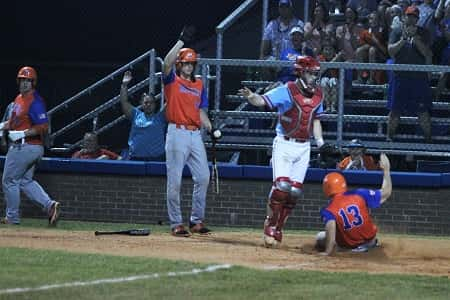 The Marshals defensive effort was there as well against the Lakers, getting out of the bottom of the second with bases loaded for Calloway County, turning a double play on a ground ball scooped up by short stop Cole Griggs to C.J. Johnson at second and over to Dawson Smothers at first.
After scoring a run on an error to lead 1-0, the defense was put to the test again in the bottom of the fifth when an intentional walk to Lofton Pigg loaded the bases once more for the Lakers with two outs. Aaron Dawson's fly ball to left field was caught by Ty Buchmeier to leave the three base runners stranded.
A walk by Tyler Belcher, Jordan Riley hit by a pitch and Austin Stockdale single loaded the bases for the Marshals in the bottom of the sixth before Beal's fly ball to right field dropped near the wall to bring in two runs and an error bringing in the third for a 4-0 lead.
After a very good six and two-thirds innings on the mound, Brock Anderson was relieved by Riley Harris who picked up the third out in the bottom of the sixth to leave two more stranded for the Lakers. With two outs and two on base in the bottom of the seventh, Stockdale stole a base hit from Carson Chapman when the right-fielder came up with the ball on a sprinting leap to end the game.
"It took us a while to get going and our kids were I thought very resilient, very competitive", McDonald said. "Things don't always happen easy. Baseball isn't a sport where necessarily the harder you play the better you play…you have to play at the right speed. I thought we played well. We had some opportunities to score early that we didn't capitalize on but overall just a really great job."
McDonald added he was happy with the pitching effort of Anderson, "He competed when things got tough and he kept competing and found a way to get out of it."
"We played some pretty good defense. I thought on all cylinders we played pretty well…not great…but we played pretty well", McDonald said, crediting the play of Griggs and his quick outfield and said of Stockdale's terrific diving catch for the final out, ""If he doesn't make that, things start looking different quickly".
Marshall   0 0 1   0 0 3   0   4 8 1
Calloway  0 0 0   0 0 0   0  0 4 3
HITTING
Marshall: Buchmeier 1/4, Johnson 1/3, Griggs 1/3, Smothers 1/3, Stockdale 3/3, Beal 1/3 (2B, 2 RBI)
Calloway: Darnell 1/2, Dawson 1/3, Ward 1/2, Kuykendall 1/2
PITCHING
Marshall: Anderson (W) 5.2 (3 hits, 0 runs), Harris 1.1 (1 hit, 0 runs)
Calloway: Scott 5.1 (7 hits, 4 runs), Collie 1.2 (1 hit, o runs)
Record: Marshall 20-8, Calloway 15-12