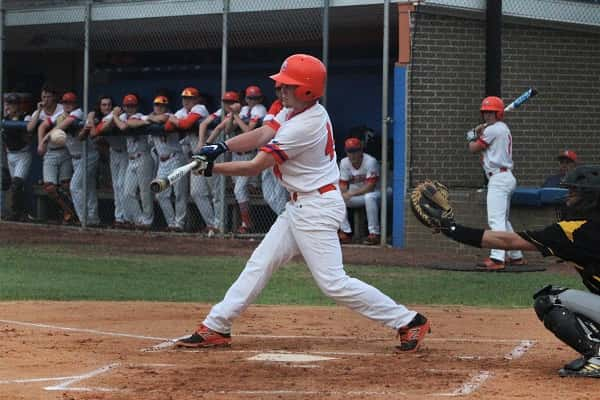 The Marshals got the job done in their five inning 11-0 win over Murray to advance to Tuesday's 4th District Championship game against Calloway County, winning in shut out fashion with Skyler Brown on the mound allowing just two hits and striking out nine batters.
Starting off with a run in the bottom of the first inning on a single by Tyler Belcher, the Marshals added four more runs in the second inning on a 2-run double by C.J. Johnson and 2-run single by Cole Griggs to take a 5-0 lead.
Jordan Riley kicked off the 6-run third inning with a solo home run followed by five more runs that came on two outs. The runs came in on a single by Johnson, wild pitch, single by Belcher and 2-run single by Dawson Smothers for the 11-0 lead.
Murray threatened in the top of the fourth by loading the bases on a double by Hunter Utley, Bradley Dawson single and walk to Reese Wilson. With two outs on the board, Riley struck out Victor Hudspeth swinging to save the shut-out.
After falling to Calloway County 14-4 in last year's 4th District Championship, the Marshals will be looking for their first district title since the 2016 season in a 7:00 game at Marshall County following the girl's championship at 5:00 between Marshall County and Murray.
Murray   0  0  0  0  0  x  x   0   2   1
Marshall 1  4  6  0  x   x  x  11  13  1
HITTING
Murray: Utley 1/2 (2B), Dawson 1/2
Marshall: Buchmeier 1/4, Johnson 3/4 (2B, 3 RBI), Griggs 3/3 (2 RBI), Belcher 2/2 (2 RBI), Smothers 1/3 (2 RBI), Riley 1/2 (HR, RBI), Stockdale 1/2, Beal 1/3
PITCHING
Murray: Dawson 2.0 (7 hits, 5 runs), Faulker 0.2 (5 hits, 6 runs), Shultz 1.1 (1 hit, 0 runs)
Marshall: Brown 5.0 (2 hits, 0 runs)
Record: Murray 7-19, Marshall 19-8