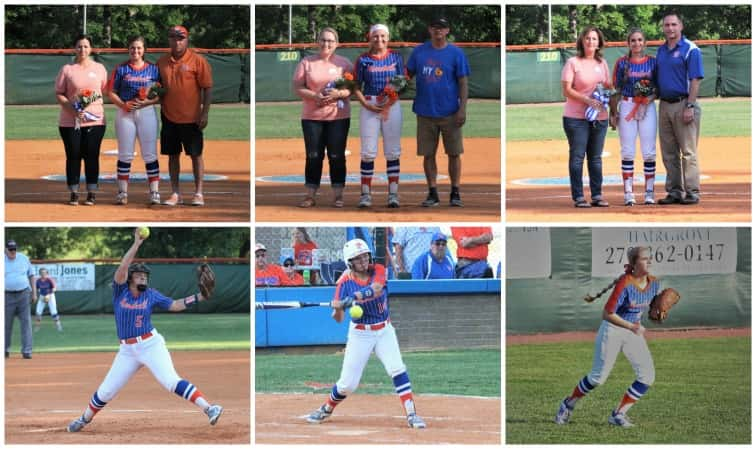 The Lady Marshals celebrated Senior Night Monday with a 10-3 win over Lyon County. Seniors are Kylee Meeks, Aubree Jo Kemp and McKenzie Tack. The team also recognized Abbie Swoope, who would have been a member of this senior class.
Kylee is the daughter of Chris and Heather Meeks and she plans to attend college. Her teammates said she has helped them all build a stronger relationship with God and has been a great role model. Always in the dugout cheering everyone on with a positive attitude.
Coaching staff comments about Kylee: "Kylee is a talented young lady. She has the voice of an angel and she has led our team in more ways than on one. She's an outstanding young Christian that always finds a way to share her testimony. She has a heart of gold and she's always looking for ways to help others. Back in the fall she always had different ideas for our philanthropy events. I have no doubt that she will be successful in her future occupation. She will change many young lives in such a positive way. She has left a lasting impact on this program."
McKenzie is the daughter of Brad and Lisa Tack and plans to attend the University of Kentucky. Her teammates said she is always cheering them on even when she couldn't play earlier this season and has been a great leader, role model, and friend for of them on and off the field.
Coaching staff comments about McKenzie: "Tack brightens any room she walks in. She's a kid that everyone wants to be friends with. She has handled adversity this season with grace and class. After coming back from sitting out of her senior season for 6 weeks she's better than ever. She's so determined, focused, and caring. From day one, Tack was on board with everything we implemented. She is wise beyond her years and I have no doubt that she will be a very successful nurse. We are honored to be her coaches. She represents this program well. We are so proud of the young lady that she is and will continue to be."
Aubree Jo is the daughter of Jerry and Laura Kemp and plans to play softball for Southern Illinois College. Her teammates said Aubree has really stepped up for them this season and has played a strong role on the field, always willing to help them and cheer them on when she is in the dugout.
Coaching staff comments about Aubree Jo: "Aubree-Jo has been phenomenal this year not only in the circle but in overall leadership. Since August, she has taken control of this team. She had a willingness to adapt and embrace a new coaching staff while stepping up and showing her true strengths this season. She's a very determined, spirited young lady. She can be energetic and goofy in the dugout then turn around and be focused and serious when she takes the mound. Aubree-Jo is so good at taking on whatever role she needs to in order to be successful. It has been a privilege to watch her dominate and help her reach her next goal: a college athlete. Marshall County Softball and Southeastern Illinois College is so lucky to get a kid with such grit. "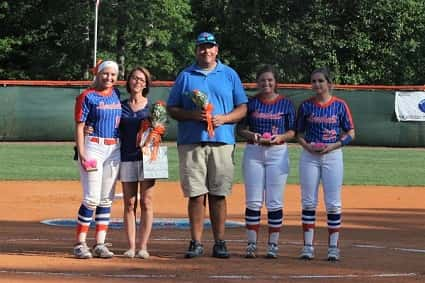 Abbie's parents are Tyler and Annie Swoope and sister Zoie is a member of the Lady Marshals. Abbie enjoyed playing softball for her team the explosion. She earned the nickname Arnold by her coaches because of her strong bat and tenacious defense. She cherished every friendship she made with teammates and coaches and would simply love this team today.
Coaching staff comments about Abbie: "I have no doubt that Abbie would have been such a blessing to our program. Zoie is so lively, sweet, and goofy and that is how I imagine Abbie to be. It is selfish of me to wish she were here on the field with us because I know she looks down and is with Zoie every step. We are so thankful to have Abbie as our guardian angel."
The Senior Night win began with a 3-run first inning for the Lady Marshals, scoring coming on a ground out RBI by Riley Piercefield and 2-run single by Cayson Conner. Lyon County tied the game with a 3- run third inning before the Lady Marshals scored five runs in the fifth to go up 8-3. They scored on a sacrifice by Gracey Murt, single by Piercefield, sacrifice by Zoie Swoope and 2-run triple by Sarenna Tomassi.
Murt sealed it with a 2-run home run in the sixth inning for the 10-3 win on 10 hits. Gabbi Lovett earned the win in five innings on the mound, allowing four hits, three runs and struck out two.
| | | | | | | | | | | |
| --- | --- | --- | --- | --- | --- | --- | --- | --- | --- | --- |
| |  1 |  2 |  3 |  4 |  5 |  6 |  7 |   R |   H |  E |
| Lyon |  0 |  0 |  3 |  0 |  0 |  0 |  0 |   3 |   5 |  3 |
| Marshall |  3 |  0 |  0 |  0 |  5 |  2 |  x |  10 |  10 |  1 |
HITTING
Lyon: Bingham 1/3 (2B, 2 RBI), Collins 2/3 (2B, RBI), Conger 1/3, Coursey 1/2
Marshall: Tomassi 1/3 (3B, 2 RBI), Jezik 1/1, Murt 2/3 (HR, 3 RBI), Piercefield 1/2 (2 RBI), Conner 1/4 (2 RBI), Young 2/3, Meeks 2/4 (2B), Swoope (RBI)
PITCHING
Lyon: Bingham 6.0 (10 hits, 10 runs)
Marshall: Kemp 1.0 (1 hit, 0 runs), Lovett (W) 5.0 (4 hits, 3 runs)
Record: Marshall County 21-8, Lyon County 17-12