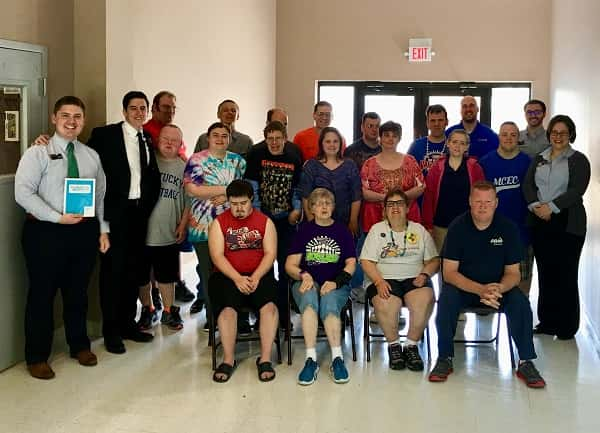 On Friday, the Marshall County Exceptional Center (MCEC) received Ramsey Financial Solutions "Foundations in Personal Finance" workbooks and DVD's from Community Financial Services Bank (CFSB). This curriculum allows the clients of MCEC to further their financial knowledge and retirement readiness. The books and supplement videos teach on categories such as Credit, Saving, Spending, Financial Protection and Insurance.
MCEC Executive Director Lindsey Walker said "These books will help us educate our clients to be as financially independent as  possible. We have many of our individuals who have employment and have their own bank accounts. Needless to say, they are very interested in how to make their money grow! Plus, many of our clients handle money for the business that they are employed by, so this is an excellent way for them to continue to learn and better themselves, professionally."
Cody Myers, CFSB Client Relationship Manager/Financial Coach stated, "We are so proud to partner with the Exceptional Center. We know that this gift can help these clients make great financial decisions because of the money skills they are learning from this program. In the long term, we want to help our community and region grow
economically and are committed to helping get everyone educated to reach financial freedom." In January, CFSB introduced and fully-sponsored this same material to all seven local public school districts-roughly $90,000 in resources across 17 schools in four counties, at no cost whatsoever to parents, teachers or students.
Also of note, this upcoming Saturday, May 12th is the annual Mike Miller Memorial Golf Tournament, a fundraiser for the MCEC at the Benton Golf and Country Club. Four person team slots are still available by calling Walker at (270) 527-1327. The cost to play in this event is $300 per team.