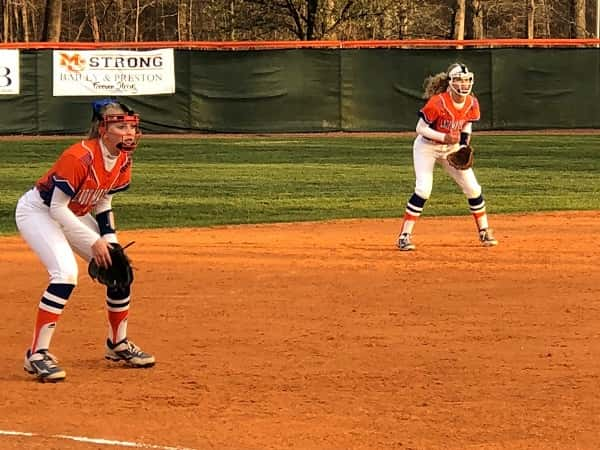 A pitching dual between Aubree Jo Kemp and Calloway County's Paige Weatherly held both teams scoreless through the first three innings. The Lady Marshals got on board in the top of the fourth that began with a single by Charley Pursley to put a runner on base.
The Lady Marshals scoring came on a single by Sarenna Tomassi and single by Addie Young that brought in Pursley and Tomassi. The two runs were enough to shut out the Lady Lakers 2-0 and pick up their second district win and improve to 8-2.
Kemp pitched the shut out in seven inning on the mound, allowing one hit, striking out seven and no walks.
Marshall County will host the Lady Marshal Slugfest Friday and Saturday. The Lady Marshals will play two game Friday at 6:30 against Daviess County and 8:30 against Paducah Tilghman. Saturday they will meet Goreville at 2:00. The JV squad will play two games Saturday at Mike Miller Park, 9:00 am against Daviess County and 10:30 am against Christian County.
Lady Marshals Slugfest schedule below stats.
| | | | | | | | | | | |
| --- | --- | --- | --- | --- | --- | --- | --- | --- | --- | --- |
| |  1 |  2 |  3 |  4 |  5 |  6 |  7 |  R |  H |  E |
| Marshall |  0 |  0 |  0 |  2 |  0 |  0 |  0 |  2 |  8 |  0 |
| Calloway |  0 |  0 |  0 |  0 |  0 |  0 |  0 |  0 |  1 |  1 |
HITTING
Marshall: Pursley 2/3, Tomassi 2/3 (2B, RBI), Young 1/3 (RBI), Murt 1/3 (3B), Conner 2/3
Calloway: Weatherly 1/3
PITCHING
Marshall: Kemp (W) 7.0 (1 hit, 0 runs)
Calloway: Weatherly (L) 7.0 (8 hits, 2 runs)
Record: Marshall 8-2, Calloway 4-3
| | | | |
| --- | --- | --- | --- |
| Marshall County HS | Miller Park Field #1 | Miller Park Field #2 | Miller Park Field #3 |
| FRIDAY, April 13 | | | |
| 6:30 Marshall vs Daviess | 6:30 Tilghman vs Lyon | 6:00 Goreville vs Trigg | 6:00 Murray vs Union |
| 8:30 Marshall vs Tilghman | 8:30 Daviess vs Murray | 8:00 Goreville vs Lyon | 8:00 Union vs Trigg |
| SATURDAY, April 14 | | | |
| 10:00 Tilghman vs Goreville | 10:00 Murray vs Trigg | 9:00 Marshall vs Daviess  (JV) | |
| 12:00 Tilghman vs Union | 12:00 Murray vs Lyon | 10:30 Marshall vs Christian | |
| 2:00 Marshall vs Goreville | 2:00 Daviess vs Trigg | 12:00 Daviess vs Christian | |
| 4:00 Marshall vs Union | 4:00 Daviess vs Lyon | | |