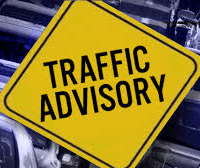 A contractor for the Kentucky Transportation Cabinet plans to establish a work zone along a section of Ky. 299/Kirksey Road in Calloway County starting Tuesday, April 17, 2018.
Work along Kirksey Road is expected to run from milepiont 4.076 just north of the Ky. 80 intersection extending northward through the Kirksey community to milepoint 10.665 at the Marshall County Line, a distance of 6.59 miles.
Planned work in this Highway Safety Improvement Project (HSIP) includes minor widening of shoulders and other safety-related activities.
Motorists should be alert for one lane traffic with alternating flow controlled by flaggers as needed to facilitate the work. Appropriate caution is required where equipment, flaggers, and other personnel are along the roadway in close proximity to traffic flow.
Jim Smith Contracting of Grand Rivers is the prime contractor on this $514,259 highway safety project. The work is expected to take about 2 weeks to complete, weather permitting.