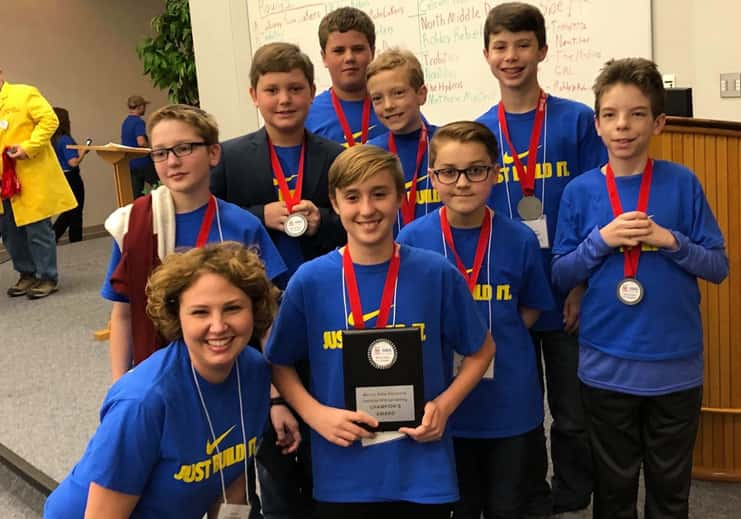 The Calvert City Community Advisory Team approved donating $4,454 in educational-grants to the Roblox Rebels Team and Marshall County High School teacher Lisa Devillez.
Jenny Darnall, who teaches at Marshall County High School, and Bill Colp, a software engineer at CSI in Paducah, are the Roblox Rebels Team sponsors. Darnall and Colp received $755 in grant money to support the robotics team. The Roblox Rebels Team consists of eight members between the ages of 9-11 years old.
"There are three scored components in our curriculum. They are research/presentation, teamwork/gracious professionalism, and robot design and mission completion," Darnall said. "Our kids focus on these three areas at all our team meetings, and all these components are essential skills in today's job market," she continued.
Darnall and Colp will use the grant money to purchase two Fire Kindle HDXs so that team members can program two robots on the mission table at the same time, and to buy parts that will enable the students to rebuild robots and improve their functions.
When South Marshall sixth grade student Will Darnall learned of the grant, he told his father, WPSD-TV Assistant Chief Photographer Chad Darnall, "That's awesome! We'll no longer have to share a computer while programming our robots. We also have limited parts so, hopefully, we can buy some additional motors."
Lisa Devillez teaches chemistry at Marshall County High School chemistry. She received $3,699.00 in grant money for the purchase two pieces of science equipment:
 An Inventables X-Carve desktop CNC machine that will add to the science department's fabrication capabilities for student inventions and support the robotics team in building specialized parts. (A CNC (Computer Numeric Control) tool is used in prototyping and full production for cutting, carving, machining and milling in wood, MDF, plastics, foams, and aluminum), and
 A Vernier Mini GC Plus Gas Chromatograph that will add to the AP Chemistry lab curriculum as well as support independent studies for the advanced students. (The Mini GC is a portable instrument for separating, analyzing, and identifying substances contained in a volatile liquid or gaseous sample.)
"I've been looking at ways to provide real-world experiences to our students that you don't typically see in a high school," said Devillez. "It will be amazing for them to have the opportunity to explore their interests with professional level equipment that they will likely encounter in their future careers," she continued.
Each spring semester, the CCCAT currently donates up to $5,000.00 to area schools through major-grants. These major-grants are in addition to the $6,000.00 mini-grants awarded to area schools each spring and fall.
"These major-grants help us support our local teachers, students, and schools with the purchase of STEM-related educational equipment that is not available through their regular school budgets," said Toni Darnall, Evonik Corporation Environmental Manager. "Teachers from Marshall and Livingston County schools will be asked each spring to apply for up to $5,000.00 in grants that support their curriculum."
The Calvert City Community Advisory Team was formed in 1992. The membership includes residents and representatives from 11 Calvert City chemical and industrial plants. The team meets regularly with each other to discuss issues of concern to both residents and the plants. The advisory group provides a forum for the plants to respond directly to the community's questions, comments or concerns.
Calvert City companies that participate in the team are Arkema, Inc.; Ashland, Inc.; Clean Earth, Inc.; Carbide Industries, LCC; Cymetech Corporation; Estron Chemical, Inc.; Evonik Corporation; Lubrizol Advanced Materials, Inc.; Sekisui SC; Wacker Chemical Corporation; and Westlake Vinyls, Inc.