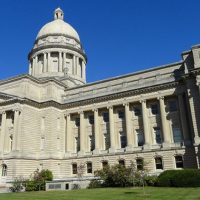 On Monday, the Kentucky General Assembly passed a two-year revenue bill that would generate nearly half a billion dollars, mostly through tax increases to middle and lower income workers, along with consumers.
According to information provided by the Legislative Research Commission, House Bill 366 would create "a flat rate for personal and corporate income taxes in Kentucky while expanding the sales tax." HB 366 passed on a 51-44 vote and the senate on a 20-18 vote.
The personal income tax rate would be set at a flat five percent instead of the current brackets ranging from two percent to six percent. Kentucky's current tax rate starts at two percent for  individuals or families making any income up to $3,000 and increases one percent per thousand dollars up to $5,000. An individual or couple making more then $8,000 pays 5.8 percent, where the majority of taxpayers fall. Those making over $75,000 are taxed at the full six percent.
Under the proposed legislation, Kentucky's top earners would see significant decreases while the majority of residents would see a 1 to 4 percent increase.
Kentucky has one of the country's highest per capita poverty rates, with about 18.5 percent of Kentuckians living in poverty and making less than $11,490 per year. Still, Senate Majority Floor Leader Damon Thayer, R-Georgetown, said lowering the high end of the current personal income tax rate to five percent would put more than $500 million back into people's pockets per year, despite raising the rate many Kentuckians already pay.
"This will increase the competitiveness of this state when it comes to attracting jobs following up on the pro-business bills we passed last year that have resulted in the announcement of over 17,000 new jobs and $9 billion of economic impact to this commonwealth," Thayer said.
Many middle income earners will also see popular breaks disappear. The bill would disallow deductions for such things as medical costs, taxes paid, interest expense on investments, and casualty and theft losses. It would also remove the $10 state personal income tax credit.
Another provision would lower the pension income exclusion to $31,110 from $41,110.
Kentucky's corporate income tax would also go to a flat rate of five percent instead of the current brackets ranging from four percent to six percent. The inventory tax would also be phased out over a four-year period.
This brought criticism from legislators such as Senate Minority Floor Leader Ray S. Jones II, D-Pikeville.
"This tax plan is a regressive tax plan that is not in the best interest of working Kentuckians," he said. "Lowering of the corporate tax rate is a giveaway. It is not going to stimulate any investment in Kentucky. It is not fair that this bill shifts the burden to working families and people on a fixed income to cut corporate taxes. That is essentially what it does."
In the House, Rep. Chris Harris, D-Forest Hills, also stood in opposition to HB 366.
"I've heard on this floor many times this session, 'I like to deal in facts,'" he said. "…Well, the fact is, this bill raises revenue and instead of securing the pensions for our teachers like we ought to be doing, we're giving corporations a tax break."
A cigarette tax would also be raised 50 cents to $1.10 per pack, under HB 366.
Senate President Robert Stivers II, R-Manchester, said the revenue measure would allow the General Assembly to pass a structurally balanced budget for the first time in two decades while providing vital government functions such education.
House Appropriations and Revenue Chair Steven Rudy, R-Paducah, said HB 366 would modernize Kentucky's tax structure to both improve personal income and fuel job growth.
"Today is our day to declare that Kentucky is ready to move forward with comprehensive tax reform," he said. "Today we boldly declare that being at the bottom of the barrel is not good enough, and that the people of Kentucky deserve better. Today is the day that this body will declare that having an average household income 18 percent below the national average is not good enough."
SB 366 now goes to the governor.