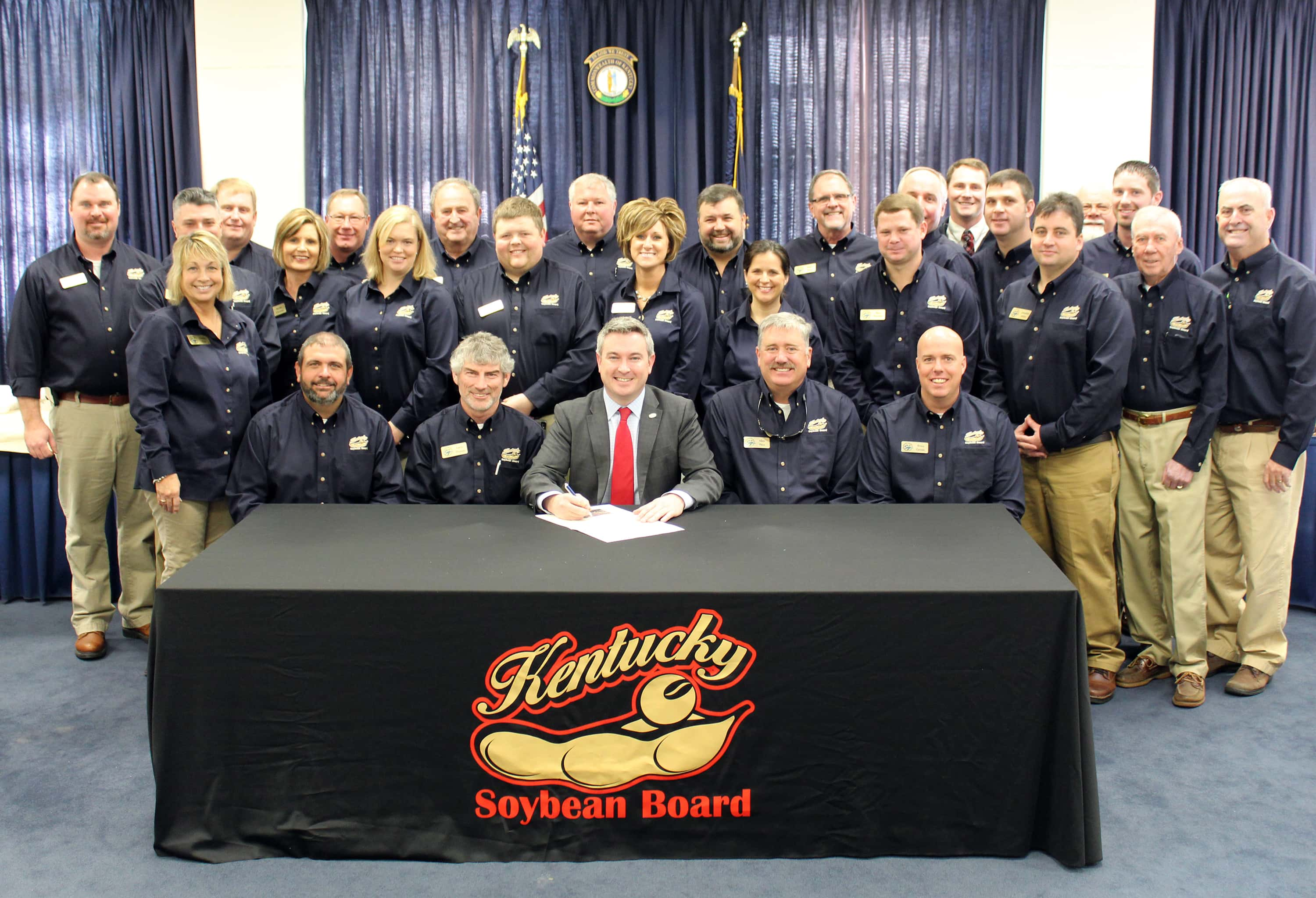 Courtesy of Rae Wagoner, Kentucky Soybean Board
Kentucky Commissioner of Agriculture Ryan Quarles proclaimed the week of March 5 as Soybean Week in the Commonwealth, and the farmer-leaders of the Kentucky Soybean Association and the Kentucky Soybean Promotion Board took to the state capitol to spread the word. Farmers also expressed their appreciation for the recognition of this vitally important crop to Commissioner Quarles.
On Monday, farmer-leaders met with House Ag Committee Chair Richard Heath, Senate Ag Committee Chair Paul Hornback, Senate Minority Whip Dennis Parrett and Representative Suzanne Miles, who serves on the Ag Committee, for a briefing on issues that affect agriculture. The budget was an important topic, as were pension reform and tax reform. These Senators and Representatives were quite candid in their remarks and it was easy to see that they are friends of agriculture.
On Tuesday, farmer-leaders served legislators and staff a BBQ lunch in the Capitol Annex. More than 450 people joined the group for lunch and learning, as educational materials were dispensed with every plate and numerous conversations about the importance of soy were held. Some attendees expected tofu to be on the menu and were surprised to learn that animal agriculture is the soybean farmer's number one customer for soybean meal, thus the promotion of pork, poultry, beef and dairy by the farmers who grow this high-protein feed ingredient. Others were interested to learn that soy is used in a number of non-food or -feed applications, including soy candles.
Soybean production in Kentucky is big business. 2017 was the Commonwealth's fifth consecutive record production year for this versatile crop, with almost 103 million bushels grown on 1.95 million acres. Soy is used for food, animal feed, and biodiesel fuel in addition to its use in numerous industrial applications. Paint, adhesives, carpet backing and even select tires use the oil from this renewable, sustainable crop in ever-increasing quantities. Most processed foods (cookies, crackers, and even chocolate) contain soy, and soybean oil – sold as vegetable oil in the supermarket – is the most consumed edible oil in the United States, used in restaurants and for home cooking at nearly triple the rate of its closest competitor, canola oil.
The economic impact of soybean agriculture on Kentucky's economy in 2017 was $1.48 billion. This crop is responsible for 9,611 jobs and $582.6 million in value-added Gross Domestic Product. For more information on soybean farming in Kentucky, visit www.kysoy.org.