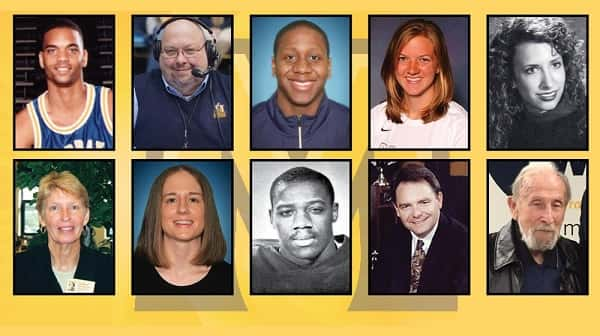 Now is the time to get your tickets to see the largest class to ever be inducted into the Murray State Athletics Hall of Fame.
The 2018 inductions are sponsored by The Murray Bank.  Induction weekend will be February 16-17 with a reception at the CFSB Center on Friday and special recognition at the Saturday basketball games when the Racers host Tennessee Tech. The reception begins at 6:30 p.m. at the CFSB Center and the cost is $15 per person. All tickets must be purchased in person at the arena ticket office or by calling (270) 809-3000.
The 2018 class  highlights 17 combined All-Ohio Valley Conference selections, four OVC MVP awards, 10 OVC team championships and one OVC and national coach of the year honor and a group of supporters that have dedicated life-long effort to the Racers.
The group of seven includes six former student-athletes including Frank Allen (basketball, 1989-93), Rebekah Clay (soccer, 2005-08), Isaiah Canaan (basketball, 2009-13), Sarah Dearworth (volleyball, 1991-94), Amber Guffey (basketball, 2005-09), Danny Lee Johnson (football, 1977-81) and one former coach, Houston Nutt (football, 1993-96).
Additionally, the MSU Hall of Fame will see four Racer supporters inducted under the Hall of Distinction category including athletics staff veteran Saundra Edwards, MSU radio voice Neal Bradley and longtime supporters Jan and Dick Weaver.