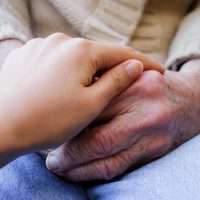 Sponsored content
As the U.S. population ages, so too do the instances of dementia and Alzheimer's disease among citizens.
Because of the increasing number of people age 65 and older in the United States, the number of new cases of Alzheimer's and other dementias is projected to soar, according to the Alzheimer's Association. Today, someone in the U.S. develops Alzheimer's dementia every 66 seconds. By mid-century, someone in the United States will develop the disease every 33 seconds.
Alzheimer's Disease has risen to the sixth leading cause of death in the U.S. and the fifth leading cause among those 65 and older, according to the Alzheimer's Association. One in 10 seniors (age 65 and older) suffer from Alzheimer's dementia; one in three seniors die with Alzheimer's or another form of dementia. It is the only cause among those in the top 10 that cannot be prevented, cured or delayed.
It's a disease that brings with it devastating effects on both patients and those who care for them. Alzheimer's takes a devastating toll on caregivers. Compared with caregivers of people without dementia, twice as many caregivers of those with dementia indicate substantial emotional, financial and physical difficulties.
According to a recent Stanford Medicine study, some 40 percent of Alzheimer's caregivers die before the patient. It isn't disease or accident that takes these caregivers, but rather the sheer physical, spiritual and emotional toll of caring for someone struggling with the Alzheimer's.
It's something Karen Wilder, wife and caregiver to the late Gene Wilder, knows all too well. Karen recently penned an essay released to ABC News on her experiences caring for her husband in the final years of his life and the struggles the couple endured.
"The first signs of trouble were small," Karen wrote. "Always the kindest, most tender man (if a fly landed on him, he waited for the fly to leave), suddenly I saw Gene lashing out at our grandson. His perception of objects and their distance from him became so faulty that on a bike ride together, he thought we were going to crash into some trees many feet away from us. Once, at a party with friends, when the subject of 'Young Frankenstein' came up, he couldn't think of the name of the movie and had to act it out instead."
After Wilder's diagnosis, the couple determine Wilder would remain at home. His care, though, took its toll on both of them.
"One day, when he fell on the patio and couldn't get up, I maneuvered him over to the edge of our pool and floated him to the other side, where there were steps and a railing to assist him. Another time, after struggling for twenty minutes trying to pull himself up, he looked out as if he was addressing the audience at the Belasco Theater, a place he knew well, and said in his best Gene Wilder voice, 'Just a minute folks. I'll be right back.'"
Karen said she had been fortunate to know what avenues to take for help. The Alzheimer's Association provided a valuable asset for her, guiding her through channels for assistance and education. Karen said she learned through the Alzheimer's Association just what a devastating effect the disease often had on caregivers.
"But let's not forget that other killer — the silent one that takes its victim even before the disintegration of brain cells does its own dirty work," Karen wrote. "I am speaking of the crisis that can kill the once-healthy loved spouses, siblings, friends and adult children of Alzheimer's patients, who devote almost every waking hour of their lives (and also the nights) to caring for a person they love, but who may no longer recognize them."
Caregiver burnout has very real consequences on the individual, the patient and other family members and loved ones. Since caregiving is often a long-term challenge, the stress it generates can be particularly damaging. You may face years or even decades of caregiving responsibilities. It can be particularly disheartening when there's no hope that your family member will get better or if, despite your best efforts, their condition is gradually deteriorating.
Without proper support, the stress of caregiving can leave you vulnerable to a wide range of problems, including depression, anxiety and burnout. Managing the stress levels in your life is just as important as making sure your family member gets to their doctor's appointment or takes their medication on time.
Learning the signs of caregiver stress can be crucial in preventing burnout. Symptoms include:
Anxiety, depression, irritability
Feeling tired and run down
Difficulty sleeping
Overreacting to minor nuisances
New or worsening health problems
Trouble concentrating
Feeling increasingly resentful
Drinking, smoking or eating more
Neglecting responsibilities
Cutting back on leisure activities
Common signs of caregiver burnout:
You have much less energy than you once had
It seems like you catch every cold or flu that's going around
You're constantly exhausted, even after sleeping or taking a break
You neglect your own needs, either because you're too busy or you don't care anymore
Your life revolves around caregiving, but it gives you little satisfaction
 You have trouble relaxing, even when help is available
You're increasingly impatient and irritable with the person you're caring for
You feel helpless and hopeless
Still there are things you can do to ease stress and burnout. Find balance in your life by focusing on the rewarding aspects. Don't let caregiving consume your entire life. Invest your time in things that give you meaning and purpose, be it church, family or community.
Most importantly, don't be afraid to ask for help. Don't try to do it all alone. Here are some tips, according to Help Guide for addressing caregiver stress and burnout:
Look into respite care. Enlist friends and family who live near you to run errands, bring a hot meal, or "baby-sit" the patient so you can take a well-deserved break. In-home services can also be provided by volunteers or paid help, either occasionally or on a regular basis. Or you can explore out-of-home respite programs such as adult day care centers and nursing homes.
Speak up. Don't expect friends and family members to automatically know what you need or how you're feeling. Be up front about what's going on with you and the person you're caring for. If you have concerns or thoughts about how to improve the situation, express them—even if you're unsure how they'll be received. Get a dialogue going.
Spread the responsibility. Try to get as many family members involved as possible. Even someone who lives far away can help. You may also want to divide up caregiving tasks. One person can take care of medical responsibilities, another with finances and bills, and another with groceries and errands, for example.
Set up a regular check-in. Ask a family member, friend, or volunteer from your church or senior center to call you on a set basis (daily, weekly, or as often as you think you need it). This person can help you spread status updates and coordinate with other family members.
Say "yes" when someone offers assistance. Don't be shy about accepting help. Let people feel good about supporting you. It's smart to have a list ready of small tasks that others could easily take care of, such as picking up groceries or driving your loved one to an appointment.
Be willing to relinquish some control. Delegating is one thing, trying to control every aspect of care is another. People will be less likely to help if you micromanage, give orders, or insist on doing things your way.
If you need assistance or information in obtaining help with a loved one suffering from Dementia or Alzheimer's, The Stilley House in Benton can address those needs. To learn more, visit stilleyhouse.com or call 270-527-1700.
Content sponsored by The Stilley House Assisted Living and Memory Care Community.