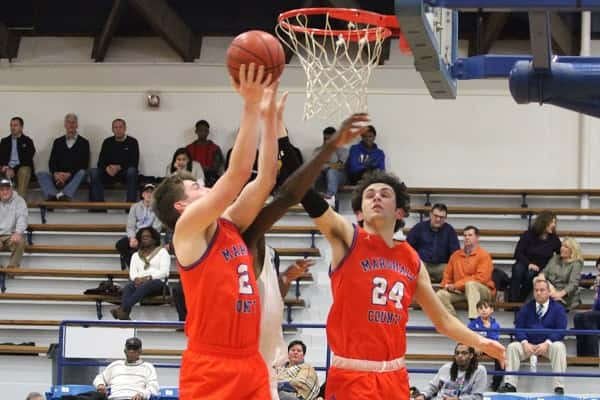 Paducah Tilghman improved to 14-3 Tuesday following their win over the Marshals and sit atop the Region I standings. The Marshals stayed within reach, trailing by eight at the end of the first quarter and nine at halftime but a big third quarter for Tilghman stretched their lead out to 22 points, too much for the Marshals to overcome.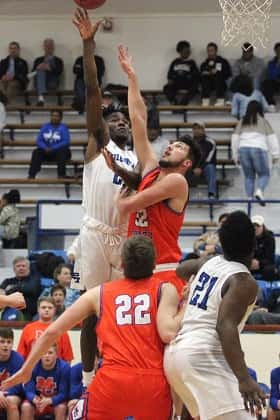 Matt French, Skyler Smith and Aaron Reed made up the Marshals eight first quarter points with JJ Reed and Micheal Laster leading the way for the Blue Tornados in their 16-8 first quarter lead.
Smith cut it to a six point game to start the second quarter and they cut the lead to five a couple of times in the quarter, the second following a 3-pointer by Smith to cut Tilghman's lead to 26-21 before trailing by eight at halftime. The loss of Matt French early in the quarter with an ankle injury hurt the Marshals inside, leaving Tilghman more opportunites on the boards, with 20 offensive and 20 defensive rebounds in the game.
A three by Tyler Powell kept the Tilghman lead at single digits in the third quarter before the Blue Tornados scored the next 11 straight to lead 45-26. A three by Austin Riley stopped the run but Tilghman stretched their lead out to 22 by the end of the quarter.
The Marshals best quarter offensively was the fourth, scoring 19 points, equaled by Tilghman with 19 points. Bryce Flatt led the way for the Marshals in the quarter with nine points, Smith with six and a basket each by Riley and Jay Nimmo.
Coach Terry Birdsong in post-game comments, was disappointed with the 20 offensive rebounds his team gave up and is looking for more energy and mental toughness from his players going forward, something they will need Friday when they host Graves County (12-5).
| | | | | |
| --- | --- | --- | --- | --- |
| |    1 |    2 |    3 |   Final |
| Marshall County |    8 |   23 |   33 |    52 |
| Paducah Tilghman |   16 |   32 |   55 |    74 |
SCORING
Marshall: Smith 13, Flatt 9, Reed 9, Riley 6, French 6, Powell 3, Nichols 2, Nimmo 2, Stokes 2
Tilghman: Reed 18, Laster 15, Thomas 13, Harmon 11, Workman 5, Carruthers 4, Concentine 3, Hobbs 3, Strayhorn 2
Marshall: FG 19/44, 3 PT 6/13, FT 8/15, Reb 26, Fouls 17, Ast 6, TO 15
Tilghman: FG 30/62, 3 PT 5/17, FT 9/19, Reb 40, Fouls 16, Ast 7, TO 8, ST 8