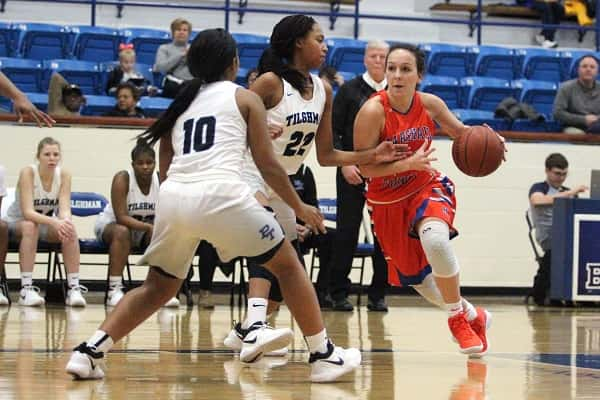 Ten players scored in the Lady Marshals 58-30 win over Paducah Tilghman Tuesday led by Tera Colson with 17 points and Presley Jezik with 10. The win improved their record to 11-6 before a another big Region 1 game on Friday at home against Graves County.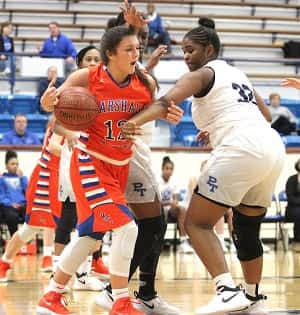 Cayson Conner scored the first four points of the game followed by eight points from Colson, including two of her five three's in the game, for an early 12-0 lead. Jezik and Emily Bridges scored to put the Lady Marshals up 16-0 before the Lady Blue Tornados got on the board with a 3-pointer by Tamia Gaines.
Leading 22-6 going into the second quarter, over five minutes ticked off before either team got on the board, with the drought ending on Colson's third 3-pointer of the game. The Lady Marshals held Tilghman to three points in the quarter to lead 34-9 at halftime.
Kinley Edwards, Conner, Jezik and Layne Pea, who dropped in two three's in the third quarter, combined to give the Lady Marshals a 49-17 lead in the third quarter. Tilghman out-scored the Lady Marshals in the fourth quarter by four points to cut their largest deficit in the game of 35 points early in the quarter, down to 28 at the final buzzer.
| | | | | |
| --- | --- | --- | --- | --- |
| |    1 |    2 |    3 |   Final |
| Marshall County |   22 |   34 |   49 |    58 |
| Paducah Tilghman |    6 |    9 |   17 |    30 |
SCORING
Marshall: Colson 17, Jezik 10, Pea 8, Conner 7, Lovett 6, Kerrick 3, Whirley 2, Bridges 2 Edwards 2, Miller 1
Tilghman: Thomas 9, Gaines 8, Milliken 7, Anderson 4, Overlin 2
Marshall: FG 23/53, 3 PT 9/18, FT 3/7, Reb 20, Fouls 11, Ast 17, TO 13, ST 16
Tilghman: FG 10/41, 3 PT 4/12, FT 6/10, Reb 30, Fouls 12, Ast 5, TO 23, ST 9