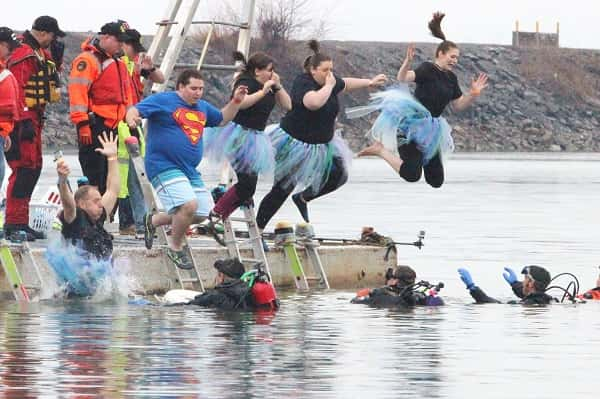 Polar bears throughout western Kentucky are gearing up for the annual Polar Plunge and Polar 5K.
Registration for this year's event, scheduled for 9 a.m. to 2 p.m. Feb. 18 at Kentucky Dam Village State Resort Park, has opened online. Individuals and teams have the opportunity to raise money through pledges and sponsorships to jump from the dock at KDV or run from the beach into the freezing waters of Kentucky Lake to raise funds for Special Olympics of Kentucky (SOKY). Those who want to contribute to the cause but can't jump or run into the water still have the chance to be part of the day's events by participating in the fourth annual Polar 5K the morning of the plunge.
Those who want to contribute but are unable to participate in the day's events may also register as "Too chicken to plunge." Chickens will receive a special "Too Chicken" shirt and be eligible for fundraiser awards.
Participants 18 and older must raise at least $75 to plunge, junior plungers must raise at least $50. Polar 5K registration fee is $40.
Prizes will be given for both top individual fundraiser and top fundraising teams in corporate/civic, school and law enforcement divisions. Prizes will be awarded for best individual and group costumes, as well.
Events begin with early check in and packet pick up from 4-6 p.m. Friday, Feb. 16 at the KDV Convention Center. Registration for the 5K begins at 7:30 a.m. at the park, with the race beginning at 9 a.m. On site plunge check in will be held from 9-10:45 a.m.; opening ceremonies will begin at 10:45 a.m., and the plunge will start at 11:30 a.m.
The event has become a tradition in Marshall County and extended throughout western Kentucky since its inception nine years ago. It's been through its share of changes within that time, too. What began as only a jump from the dock has grown to include costumes, prizes and crowds of more than 1,000 in attendance. Last year's event raised more than $95,000 for state Special Olympics programs, athletes and volunteers, according to SOKY. As of 3 p.m. Thursday, the upcoming event had $18,375 raised toward the effort.
Special Olympics is the world's largest program of sports training and competition for children and adults with intellectual disabilities. Participation in competitive events is open to all individuals 8 years of age or older. Training and competition in local, area, state, and national programs is offered year-round in Kentucky in 15 sports. In addition to its traditional sports competitions, Special Olympics also offers early childhood programming through the Young Athletes Program and medical screenings though the Healthy Athletes Initiative. Special Olympics Kentucky has been changing the lives of people with intellectual disabilities in Kentucky for 45 years.
According to SOKY, more than 8,340 athletes and 8,050 volunteers participated in Special Olympics programs as of 2016 in Kentucky. The local Polar Plunge is one of five events held in the state in 2018.
For more information about the Polar Plunge, contact Laura Miller, West Regional Director, at 270-293-9054 or via email at lmiller@soky.org, or visit www.kentuckyplunge.com.
For more information on the Western Kentucky Polar Plunge or to register, visit http://2018westernkyplunge.kintera.org. For more information on SOKY and its programs, visit soky.org.