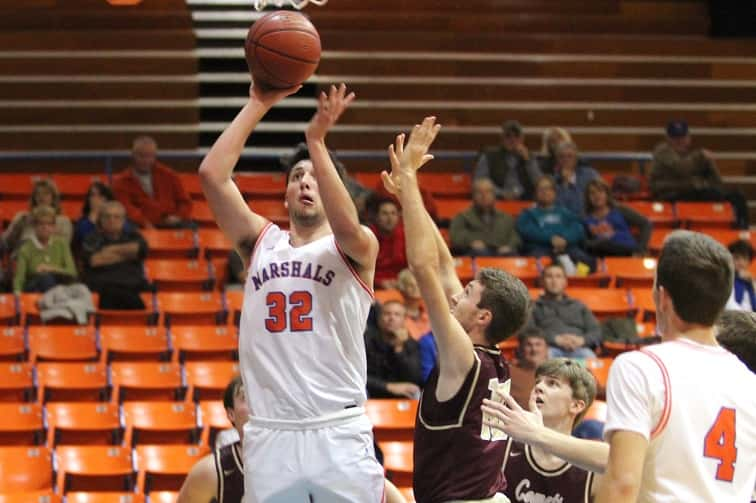 Marshall County picked up win number three Tuesday over Carlisle County, and the Comets made the Marshals work for it. Offensively, Marshals Head Coach Terry Birdsong thought the team did a lot of good things, but it was defensive end that allowed Carlisle County to stay within reach, sending the Comets to the free throw line 27 times, 22 of which they converted for points.
"We're trying to make that transition from playing zone for two years to get where we can guard man to man", Birdsong said. "Some of the things that aggravated us was just getting beat in transition. It's a work in progress."
Matt French led with 21 points, Tyler Powell added 17 and 15 from Aaron Reed combined for 53 of the Marshals 68 points. They led 6-0 early, but the Comets closed the gap and trailed by just one point before Tyler Powell finished the quarter out with five straight points to stretch their lead back out to six.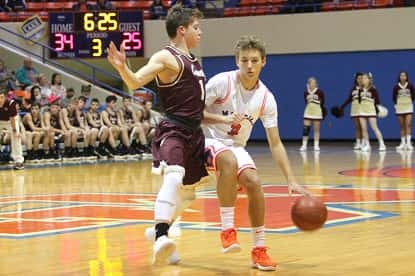 French and Skyler Smith both scored to open the second quarter on an 18-9 lead. French scored nine of his 11 first half points in the quarter to build the Marshals lead to 32-20 at halftime, despite several successful trips to the free throw line for Carlisle County who were led in the first half by Trey Wilson with 10 points.
A Marshal turnover resulted in two points by Michael Thomason who was fouled in the process and converted the free throw to cut the Marshals led to seven early in the second half. French and Reed with a quick two baskets put them back up by 11 but the Comets answered with four points from Daven McGee and Reese Anderson to cut it back to a seven point game.
A 47-36 Marshall lead was cut to nine on a basket by Wilson before a put-back by French just at the buzzer put the Marshals up by 11. Free throws by Lucas Nichols stretched the lead out to 13, one the Comets cut to six point with three minutes left in the game. Powell's 3-pointer put the Marshals up 60-51 and they finished the final minute and a half out-scoring the Comets 8-2 for the 13 point win.
French had 14 rebounds and Smith eight of their total 39 compared to 21 for Carlisle County. The Comets came up with eight steals in the game and forced 10 Marshall County turnovers.
"We got beat off the dribble too much, our rotations were slow, we got beat in transition all night…but they still only scored 55 points" Birdsong said. "We've got to get better defensively basically."
Birdsong hopes to have the defense ready to go when they are tested on Friday at McCracken County. The Mustangs are 3-0 with wins over Livingston Central, Henderson County and Calloway County.
| | | | | |
| --- | --- | --- | --- | --- |
| |    1 |   2 |   3 |   Final |
| Carlisle County |    9 |  20 |  38 |    55 |
| Marshall County |   15 |  32 |  49 |    68 |
SCORING
Carlisle: Wilson 19, Thomason 16, McGee 7, Anderson 6, Elder 5, Hook 2
Marshall: French 21, Powell 17, Reed 15, Smith 8, Nichols 5, Riley 2
Carlisle: FG 16/43, 3 pt 1/13, FT 22/27, Reb 21, Fouls 21, Ast 18, TO 9, ST 8
Marshall: FG 24/51, 3 pt 3/13, FT 17/22, Reb 39, Fouls 20, Ast 13, TO 10, ST 4