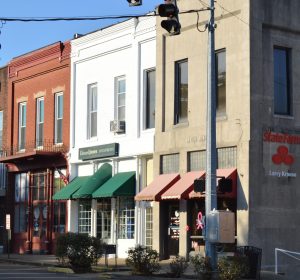 The City of Benton is planning for future growth and development.
Benton Mayor Rita Dotson said the city had assembled a 15-plus member committee devoted to creating a five-year comprehensive plan for the city's development. The group will meet next month for the first time to begin outlining the city's wants and needs to be addressed and accomplished in the next five years.
"I have got together a committee from middle school on up," Dotson said. "I tried to incorporate a large variety of people who would have ideas, (like) walking trails, bicycle paths. I've been in contact with the state; they feel like we can get some substantial funding for bike paths and sidewalks, but we have to have a plan. They won't even look at us until we come up with a plan."
The plan will be the city's first since 2008, and will incorporate elements from the previous five-year plan. In addition to committee members assembled from various community partners and city council members, Dotson said she intends to invite participation from groups such as the Marshall County Health Department, Benton Gas and Benton Police Department. Meetings will be open to the public, and the committee will solicit resident input, as well.
"I really tried to give a lot of thought to all the different age groups and backgrounds of the people, because they will each have something to bring to the table," Dotson said.
The plan could help obtain funding for some of the city's already developing projects, such as the downtown mural project. Councilman Justin Lamb said in a previous interview he'd been approached by resident and local historian Dr. Robert McCrory about the possibility of painting historical murals downtown depicting some of the county's most notable events, people and landmarks. Lamb and Dotson formed a committee with local artists and educators, which secured donated space on the building next to the Benton Memorial Plaza to place the first mural. The committee had eyes on a second, undisclosed location as well.
Cost estimates for a mural covering about 200 square feet (or 10 feet by 20 feet) range from $7,000-$10,000, depending on complexity of the mural. Dotson said local grant writer Wendy Baxter had looked into potential funding streams for the project and thought she might have identified a source.
"It's going to be more incorporated into the five-year plan, because … they won't hardly write you a grant just for a mural," Dotson said. "But if show that you're trying to make upgrades in the rest of the city, then they will write you a pretty nice little grant. So, we're hoping to get that done."
The committee will host its first meeting at 9 a.m. Monday, Dec. 4 in the city council room at Benton City Hall. Meetings are open to the public.