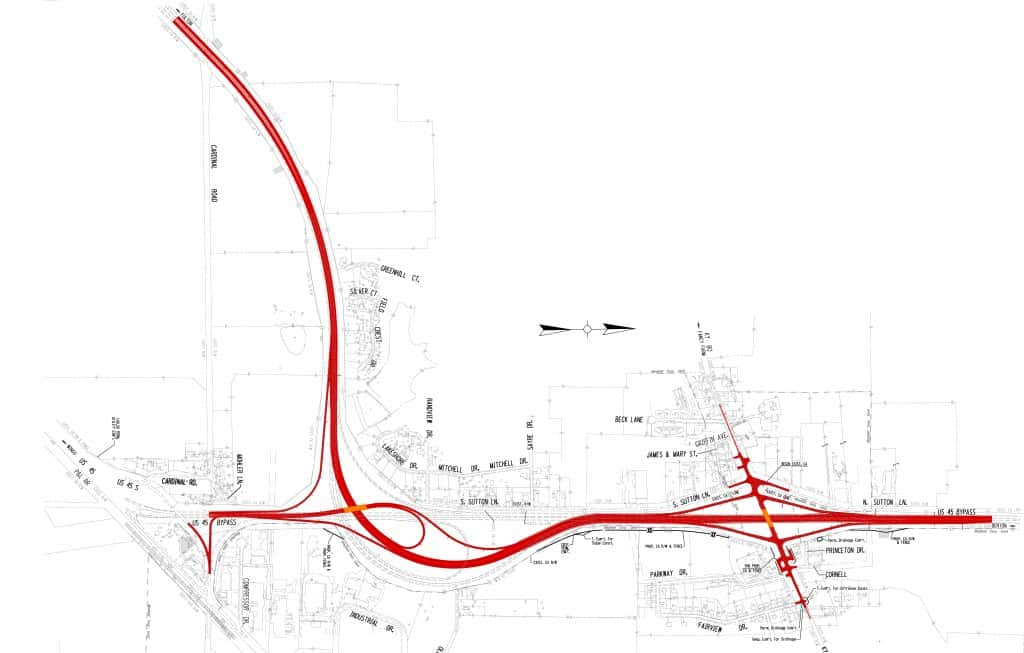 A contractor for the Kentucky Transportation Cabinet (KYTC) plans a traffic shift along the Julian Carroll-Purchase Parkway/US 45 Bypass Exit 21 Interchange within in the I-69 Interchnage Reconstruction Project at Mayfield today.
The contractor plans to shift traffic from the old SOUTHBOUND Purchase Parkway to the new alignment within the reconstruction project between the 17 and 23 mile marker in Graves County at the southwest edge of Mayfield. This traffic shift will require about a 30 to 60 minute traffic halt along the main line of the Purchase Parkway at the KY 80 Mayfield Exit 22 Interchange. During this traffic shift southbound traffic will be routed up the ramps at the KY 80 Exit 22 Interchange, then back down the entry ramp. This temporary ramp on-ramp off arrangement is expected to be in place for about 60-90 minutes to facilitate the shifting of traffic to the newly constructed lanes.
This traffic shift is expected to take place around mid-afternoon, today. Motorists traveling the Purchase Parkway this afternoon should use an appropriate level of caution. Some delays are possible as final connections are completed and traffic control equipment adjusted to accommodate this traffic shift. Motorist should be alert for stopped traffic. Motorists should be aware of changes in traffic flow the new traffic configuration will bring to the Purchase Parkway Exit 21 Interchange.
Once the traffic shift is complete, southbound traffic will be traveling on the new alignment. Motorists are reminded that a work zone speed limit remains in place due to the high level of construction activity continuing in this area.
As a reminder, the Purchase Parkway connection to US 45 South at the interchange remains limited. Northbound lanes of the Purchase Parkway can access the southbound US 45 Mayfield Bypass to connect to US 45. Northbound traffic on the US 45 Mayfield Bypass can access the northbound lanes of the Purchase Parkway in this work zone. All other connections between the Purchase Parkway and US 45 at the Exit 21 Interchange remain closed for about another month.
Purchase Parkway southbound traffic wishing to reach US 45 South at Mayfield is required to detour via US 45 Business through Mayfield to make that connection.
This work zone at Mayfield extends along the Purchase Parkway from about the 17 mile marker to about the 23 mile marker. The project area includes a 55 mph work zone speed limit with an enhanced enforcement presence and double fines for citations. Some ramps within the work zone are restricted to one lane with a 45 mph limit.
Jim Smith Contracting of Grand Rivers is the prime contractor on the $24.1 million reconstruction project aimed at bringing the existing interchanges up to current standards for Interstate 69. The total project has a target completion date of July 1, 2018.