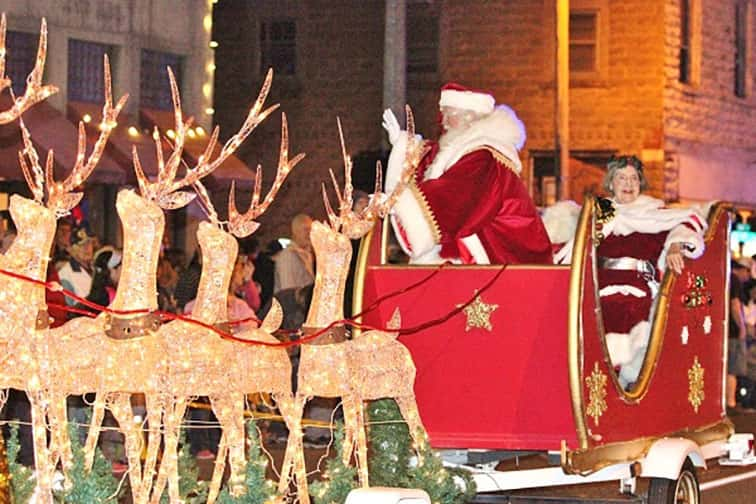 The holiday season is very nearly here, and organizers of the annual Dickens Festival and Christmas parade in Benton have preparations well under way for this year's events.
The Dickens Festival and Christmas Parade will be held Saturday, Dec. 9 in downtown Benton. It's a dual event that has undergone changes and overwhelming growth since its inception in 2007, Dickens planning committee member Jessica Scillian said. While the city has hosted a Christmas parade annually for more than 30 years, it wasn't until 2012 that the event was combined with Dickens Christmas and held in the evening. It was a wise decision, Scillian said, having grown well beyond the confines of the alley that runs behind the business front between 11th and 12th streets.
"Our attendance just kept growing to where we couldn't fit in the alley," Scillian said. "So we kind of started spilling out onto 11th Street and onto 12th Street, and we have the plaza there at 12th Street. So, we started utilizing that and focusing some children's events, so, like the parents could kind of bring the kids there to do the characters and play the little games while they kind of went down the alley. And then the businesses around on the other side of the square were like, 'Hey, I want to do this too.' … So it kind of spilled out up onto Main Street and onto Poplar Street."
Dickens Christmas was Larry Krouse's vision, Scillian said, and he had been the one to put in the work for that first event. Krouse, who had been inspired by a similar event in another community, visited local businesses and encouraged participation, in hopes of bringing a classic English Christmas to the alley, complete with carolers, traditional children's games, cider and roasted pork. In truth, though, he saw much more in the event and drove volunteers to see the vision to something much more.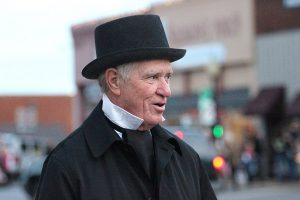 "This was his baby; he dreamed this years and years before any of us in the Main Street (program) were ever brave enough to take him seriously," Scillian said. "… He did all of it. The first year, he went to the businesses … he got the idea in his head. He got the art students at the school to paint the murals that decorate the alley to make it look like Dickens theme. We were just kind of the little helpers. And I look back now and it's been 10 years, and I think, 'Larry, you so knew what you were doing.' … He takes great pride and great work – he works his tail off on this. And it shows. What it has grown into and the recognition that it gets. People come from other counties because they've heard about it. It's all because of him. I don't think any of us would have ever dreamed this to be what he dreamed it to be and to see it come to light."
Participation just continued to grow to incorporate virtually every downtown retailer and several other businesses on the court square, she said. Initially held the Friday before the Christmas parade, which always falls on the second Saturday in December, organizers took a chance in bringing everyone together for the celebration in one day. Dickens Alley became Dickens Festival, and the parade was moved to a night-time event.
Dickens Festival will open with cookies with Santa at 2:30 p.m. at Marshall County Republican Party Headquarters on the court square. Jolly Old St. Nick will at 4 p.m. head down to Puckett's Jewelry, where little ones may visit and have pictures made. It's a slight change from previous years, when Scillian said Santa usually set up at City Hall.
Santa won't be the only familiar face downtown, however. Other characters from beloved Christmas stories will also be milling about, including the Grinch, Buddy the Elf, Ebenezer Scrooge and Ghosts of Christmas Past and more. Business participants and organizers will also be dressed true to the Dickens theme. Organizers are inviting and encouraging the public to join in the fun, as well.
"That is something that we would love, love, love the public to do, is to wear a bonnet or wear a top hat or wear your read shawl or your black skirt," Scillian said. "You know, just dress with what you have at home. You don't have go rent or buy a costume, but we just encourage you to dress to the theme. Because it's so fun to see people just walking around with what they come up with with just things they have at home."
Other events at the Dickens Festival include a chili fundraiser at 3 p.m. At the Main Street Center, and the Power Wheels children's parade at 4 p.m., where kids can deck out their power wheels, wagons, cars and whatever their mode for their own parade. Participants will have the opportunity to win a cash prizes for their entries.
In addition, First Missionary Baptist will set up a live nativity scene, complete with animals.
"They have done that since the very first Dickens started," Scillian said. "So, they are part of the original crew from 10 years ago. The guys from the church built, out of old trees, a nativity scene, and they bring in animals and they have that set up. … It's a really cool thing, it's a really neat thing that they've done."
The Frozen Plaza and Holiday Square will open at 4:30 p.m.; and while events will take place around throughout the area between 10th and 12th streets, Dickens Alley itself will also open at 4:30 p.m.
"We're still going to have the pig; we'll still have the soup, we'll have the bread, we'll have cookies," Scillian said. "There'll be the Coca-Cola bottle drinks. We'll have all kinds of events, but we are this year going to take some things back to the alley. We kind of took a lot of things out of the alley because of the crowd, but we've had a lot of people say, 'I miss that. I miss getting things from the alley, that's really what made me feel like it was the Dickens theme.' So we're going to put some stuff back into the alley, but we're also going to have it back still on 12th Street and Main and 11th, just so everybody's not crammed into the alley."
Events will continue until the Christmas parade, which will begin at 5:30 p.m. on Main Street, at the vacant lot next to Mediacom. This year's theme is to "Tell a Christmas story," which Scillian said was open to a broad range of interpretations and makes it all the more fun.
"We were kind of laughing at our meeting," Scillian said. "We said that could go anywhere from pulling your RV and being Cousin Eddie to 'A Christmas Story' and little Ralphie shooting his eye out with a BB gun. Or whatever your family tradition is. It's a very, very broad theme. We were hoping that would make it easy to get more entries. … We just want entries and want people here."
Participants do not have to follow the theme, however, unless they wish to be considered for judging. Cash prizes for first-, second- and third-place floats will be awarded. Those who do not wish to participate in the judging may enter as well, so long as the float is decorated with Christmas lighting.
Participants may register right up until parade lineup, and are asked to arrive by about 4:30 p.m.
Benton resident Joe Tom Haltom will serve as this year's parade grand marshal. Haltom, considered by some to be Marshall County's very own spirit of Christmas, was a former sheriff and business owner, but has long been a philanthropist in the county. According to a May 13, 2017, article on Marshall County Daily, Haltom contributed funds and land to Marshall County Hospital. Haltom was responsible for purchasing land where the new hospital sits, and contributed $1 million to construct the medical center which now bears his name. He furthers that contribution by continued donations to the hospital auxiliary. Other contributions include to the Children's Art Center, Benton Pool House project, among others. Most notably, Haltom was among those responsible for founding the Marshall County Exceptional Center.
"He's been a very giving person," longtime friend Doug Dotson was quoted as saying in the May 13 report. "But he will tell you, Marshall County's been very good to him. … He wants to give back, but he wants to give back where everybody can use it, and nobody (is) left behind."
For more information about this year's Dickens Festival and Christmas parade, visit the Benton Partnership on Facebook. To register, complete entry the entry form and email to Elena Blevins at eblevins@kentuckylake.org or Scillian at jscillian@cityofbenton.org. Forms may also be taken to the Benton Gas Department.