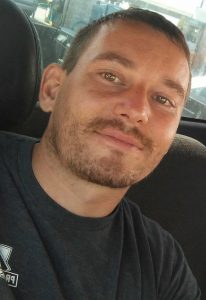 UPDATE, 8:55 p.m. Nov. 11:
Local police have arrested Douglas A. Becker, the man accused in a home invasion and attempted shooting Friday in Symsonia.
According to Kentucky State Police, about 6:15 p.m. Marshall County Dispatch received a call from a citizen reporting a man who matched Becker's description on Phelps Road near Symsonia Highway in Marshall County.
KSP troopers responded to the area and located Becker. He was taken into custody without incident and taken to Jackson Purchase Medical Center in Mayfield for treatment due to prolonged exposure to the cold. He will be taken to Graves County Jail upon his release.
Becker faces charges of first-degree burglary, first-degree unlawful imprisonment, attempted murder, two counts of fourth-degree assault and three counts of first-degree wanton endangerment.
****
ORIGINAL STORY:
Kentucky State Police troopers are searching for a man suspected in a home invasion and shooting in Symsonia.
According to a KSP media release, troopers responded at 6:30 p.m. Friday, Nov. 10, to a residence on Bell Road in Symsonia on a report of shots fired. Preliminary investigation indicates that Douglas A. Becker, 31, of Taylor, Texas, allegedly entered a home on Bell Road and assaulted two people inside. Becker allegedly held one victim against her will and fired at least one shot from a firearm he'd brought with him.
Becker fled the scene on foot following the incident, police say. No one was injured during the invasion.
Kentucky State Police Troopers and Graves County Sheriff's Deputies searched for Becker without success through the afternoon and night. An arrest warrant has been issued for Becker, charging him with several offenses, including attempted murder.
Becker is a white man, 5-foot-10 and 155 pounds. He has brown eyes and short, dark hair. He was last seen wearing a white hoodie and blue jeans.
Becker is believed to still be in the area and should be considered armed and dangerous. Residents who see Becker are asked to not approach him, but rather to immediately call 911.
The investigation is continuing by Detective Eric Fields. Anyone with information is asked to contact the Kentucky State Police Post 1 at 270-856-3721 or anonymously at 1-800-222-5555.