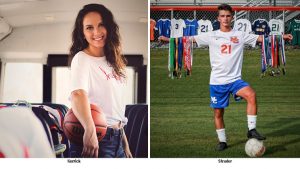 "Learn. Perform. Lead." Those are the words chosen to describe the winners of the High School Heisman awards. This year, seniors Chloe Kerrick and Seth Strader from Marshall County High School have earned that description: they have officially been named school winners of the Wendy's High School Heisman, a joint program between Wendy's and the Heisman Trophy Trust that recognizes high-achieving seniors from more than 29,000 public and private high schools within the U.S.
Kerrick was also selected to advance as one of twenty Kentucky State Finalists from an impressive pool of over 200 School Winners across the state. State Finalists go on to compete for the title of State Winner, where one male and one female student from each state will also receive a Wendy's High School Heisman Scholarship.
To be eligible for a High School Heisman award, students must maintain a GPA of 3.0 or better and participate in one of the 47 school-sponsored sports recognized by the International Olympic Committee in the Summer and Winter Olympic Games or the National Federation of State High School Associations. In addition, these students must also be considered proven leaders and role models within their school and community.
Each State Finalist will receive a bronze medal, a Wendy's High School Heisman State Finalist patch and a $25 Wendy's gift card. School Winners will receive a certificate and Wendy's High School Heisman patch. A complete list can be found at www.wendysheisman.com/results/.
These students are known by their teachers and friends for their commitment to excellence, both on and off the field.
The Wendy's High School Heisman was created by Wendy's founder Dave Thomas in 1994. Dave Thomas dropped out of high school when he was 15 years old in order to work full-time and went on to become one of the most successful entrepreneurs in history. While this nontraditional path led to his prosperity, it always worried Dave that others would follow in his footsteps and expect to achieve similar fame and wealth by not finishing high school or attending college.
Faced with this dilemma, at 61 years old, Dave enrolled at Coconut Creek High School in Ft. Lauderdale, Fla., and received his General Equivalency Diploma (GED). Inspired by this moment and with a desire to celebrate the outstanding achievements of youth in America, he launched the Wendy's High School Heisman program.
Twenty-two years later, Wendy's High School Heisman has honored more than 600,000 of the nation's most esteemed high school seniors who share Wendy's values of giving back to their communities, treating people with respect, continuing education and excelling on the athletic field.