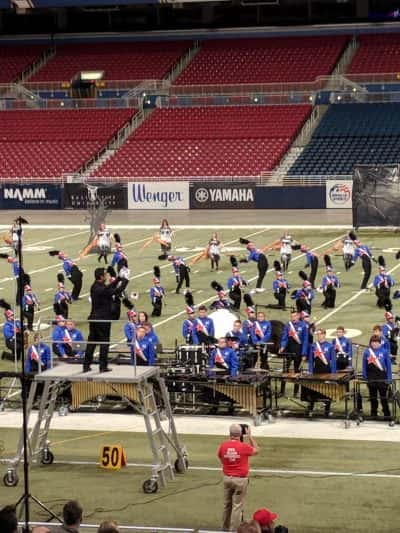 The Marshall County Marching Marshals concluded the 2017 season Friday, with a performance at the Bands of America Super Regionals at the Dome in St. Louis, Mo.
The Marshals finished 16th out of 23 bands in Class 2A in preliminary competition and 52nd out of 65 total bands. The band earned a combined score of 60.95 and a proficient rating. Bands were scored on musical performance, visual performance and general effect.
Broken Arrow High School, a class 4A competitor from Broken Arrow, Okla., took home top honors at this weekend's event.
The Bands of America circuit brings out nationally-ranked organizations to compete for honors around the country. Competitions are open to all high school marching band programs. The BOA National Grand Championships, held each year in Indianapolis, are the largest and most prestigious competition open to high school competitors.
Friday's performance marked the end of a competition season in which the Marshals earned both Reserve Grand Champion and Grand Champion honors in area competitions. Head Director Ronnie Payton said he was proud of students and their progress throughout the year.
The Marshals will perform next at their annual Meet the Marshals public event set for Thursday, Oct. 26 at Marshall County High School. The event will begin with a chili supper and silent auction fundraiser at 5:30 p.m. in the MCHS cafeteria and commons area. Chili supper admission is $6 and comes with meal of chili, trimmings, dessert and drink. The meal will conclude at 6:45 p.m.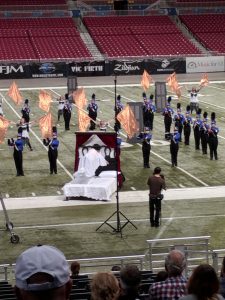 All proceeds from the dinner and auction go to the band.
"It's a chance for the community to see our full show, as well as support the band in our fundraising efforts," said Rachel Shaw, band booster fundraising chairwoman. "We fundraise all year, and we so appreciate all the donations from our local businesses. The community has always supported what we do, and we appreciate that support."
The Marshals will perform this year's show for the public after the dinner, beginning at 7 p.m. on the field at Carroll Traylor Stadium at MCHS. The public is invited to attend.
The Marshals will perform their last show of the season at half time this Friday at MCHS.