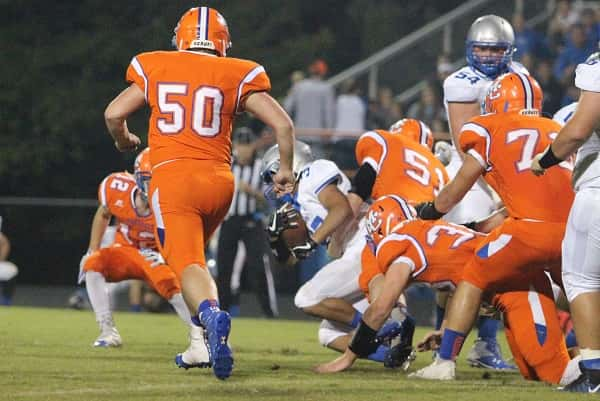 Owensboro picked up their first 5A District 1 win of the season Friday 56-6 over the Marshals who were also looking for their first district win. Owensboro is the defending 5A, District 1 champions and in the five years the two team have played, the Red Devils lead 4-1 in the series.
Owensboro had 443 yards of total offense, the majority on the ground with 356, led in rushing by Josh Cowherd on 13 carriers for 105 yards. The Marshals had a total of 137 yard, 94 in the air and 43 rushing.
The Marshals chose to receive the opening kick and put together a 71 yard drive that was capped off by a two-yard touchdown by Mason Green to get on the board first, leading 6-0.
Owensboro quickly scored a touchdown by senior fullback Cowherd to lead 7-6 and went up 14-6 with 1:40 to go in the first quarter on an 11 yard run by sophomore running back Imonte Owsley.
The Marshals turned the ball back over to Owensboro on a fumble that the Red Devils took advantage of to take a 21-6 lead as the quarter ended.
Marshals quarterback Skyler Smith was intercepted to start the second quarter by Cameron Thompson who ran it back to the Marshall County 34 yard line followed by a 34 yard touchdown pass from Ezekeil Brown to Tyren Hayden put the Red Devils up 28-6.
Smith was intercepted by Owsley and the ensuing Red Devils drive almost ended on 4th and 9 but they went for the first down completing a 36 yard touchdown on a pass from Nick Belcher to Owsley for a 35-6 lead.
Owensboro scored again before the half to lead 42-6 on an 18 yard touchdown run by Jakaray Weaver and went on to score 14 more points in the second half in the 56-6 win.
This is a bye week for the Marshals with Apollo up next on Friday, October 20th in the Homecoming game. Apollo is 5-2 and suffered their second loss of the season Friday 43-21 to Christian County.