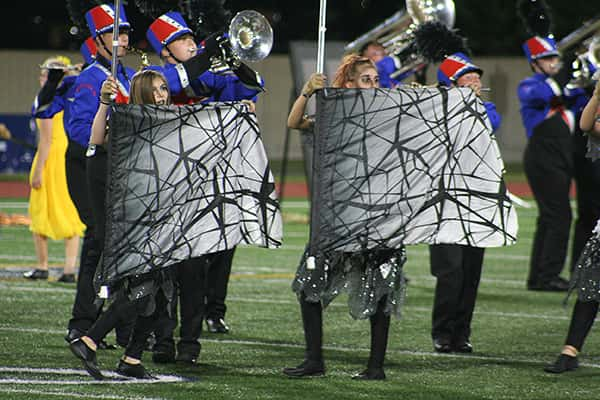 The Marshall County High School Marching Marshals brought home second place in class 5A and eighth place overall in the 42nd annual Festival of Champions marching band competition Saturday at Murray State University.
The Marshals earned a combined score 68.45 in preliminary competition, an eighth place ranking that secured the group a place for consideration in finals. The band placed second in class 5A, coming in behind eventual grand champion competitor Castle High School, from Castle, Ind. Four bands competed in the class, including third-place in class McCracken County, which the Marshals edged last week for a grand champion title at the Graves County Screamin' Eagle Invitational. Henderson County placed fourth in class at Saturday's event.
In all, 14 bands marched for the opportunity to compete in finals; judges considered performances in music, musical effect, visual and visual effect when calculating scores. Percussion and color guard sections were evaluated, as well, though categories were not figured into scores to determine awards.
Marshall County's color guard and percussion each were fourth overall in preliminary competition. Finals competition yielded a fifth-place ranking for the Marshals' guard and 10th-place ranking for percussion overall.
The band improved on its finals performance, earning a combined score of 70.2 for a distinguished rating. The band again earned second place in class, topping the 10th-place overall McCracken County Mustangs' 68.4, and ranking eighth overall for the evening. Jasper High School Marching Wildcats of Jasper, Ind., took Reserve Grand Champion honors at the event; the Madisonville-North Hopkins Marching Maroons rounded out the top three in scoring for the evening, just ahead of the fourth-place Hopkinsville Tiger Band. Murray High came in fifth place in finals competition.
The Marshals' 2016 performance earned a ninth place finish at MSU.
The Marshals return to the field this Saturday for their final regional competition of the season at the Christian County Tournament of Bands in Hopkinsville. The competition begins at 11 a.m. at the stadium on Eagle Way Bypass. The Marshals will kick off 5A competition at 1:15 p.m.