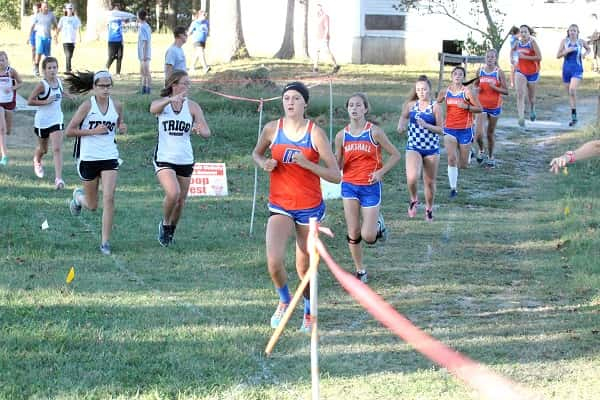 A twist on the traditional cross-country meet, the Mad Marshal Dash splits the runners into two group, group A and group B, then separate twice during the race, actually crossing paths before coming back together for the finish in the 3200 meter distance.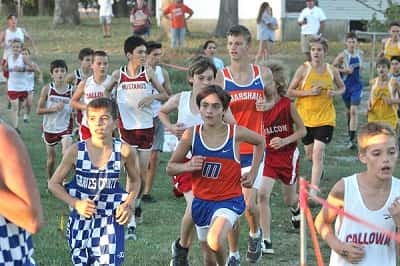 McCracken County swept individual honors taking first in both the boys and girls varsity races. Maggie Aydt won the girl's race in 12:28.83 and Wes Grogan won the boy's race in 10:26.66. Corbin Knight of McCracken County, won the boy's middle school race in 11:50.04 while Graves County's Aujha Robinson won the girl's middle school race in 14:11.62.
The girls from McCracken County and boys from Marshall County took the varsity team titles.
Alexia Minter had the best finish for Marshall County girls, placing fourth in 13:19.16 and Samuel Lanham the fastest finish for the boys in 11:01.03. Both are in the eighth grade.
CLICK HERE for complete meet results – more photos below results.
Complete Marshall County results:
| | | | |
| --- | --- | --- | --- |
| VARSITY GIRLS | VARSITY BOYS | MIDDLE GIRLS | MIDDLE BOYS |
| 4 Alexia Minter | 5 Samuel Lanham | 12 Kendra Pugh | 10 Ty Swoope |
| 12 Bailey Sandlin | 7 Mason Cosner | 14 Elizabeth Barrtt | |
| 17 Jordyn Ray | 9 Ethan McCarty | 15 Scout Sandlin | |
| 22 Haley Ford | 10 Matt Ray | 18 Emma Kate Whirley | |
| 25 Tarryn Story | 11 Christian Cosner | | |
| 33 Chloe Newton | 12 Cade Flatt | | |
| 36 Zoe Short | 14 Ethan Dowell | | |
| 40 Zoie Swoope | 15 Knox Sandlin | | |
| 50 Laney Beth Jones | 27 Cole Wyatt | | |
| 52 Bella Barrett | 34 Curtis Wyatt | | |
| 56 Kelyn Mannon | 36 Alex Colburn | | |
| 65 Chloe Kerrick | 41 Isaiah Kirby | | |
| | 49 Jackson Miller | | |
| | 63 Ru Jones | | |
| | 64 Justin Wilson | | |
| | 76 Deven Bradley | | |
| | 78 Aidan Clinton | | |
| | 82 Avery Minter | | |
| | 84 Ethan Phelps | | |
| | 89 Kyle McClain | | |
| | 99 Thomas McLean | | |
| | 104 Cameron Wiles | | |
| | 111 Andrew Lanham | | |
| | 123 Grady Ward | | |
| | 125 Zach Artis | | |