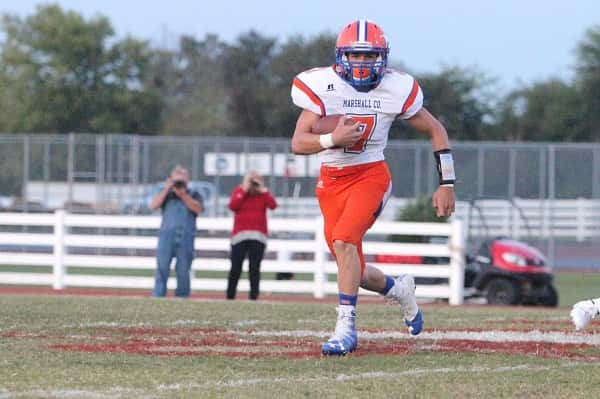 Christian County remains unbeaten after the #3 Colonels beat the Marshals 37-6 Friday at the Stadium of Champions, the first 5A District 1 game for both teams.
A threat both on the ground and in the air, the Colonels had 422 yards of total offense, nearly 200 in passing by senior quarterback Kolbe Langhi with the majority of the rushing yardage split between Jadonavin McNeal,  Ja'Quon Long and Diion Leavell.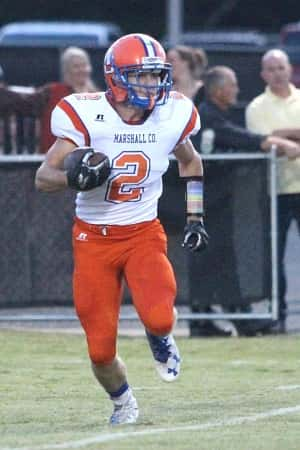 The smothering Colonel defense held the Marshals to just 29 yards rushing with the majority of their 154 yards of total offense coming by air from Skyler Smith who completed 12 of 22 for 125 yards. His leading receivers were Dylan Walters with two receptions for 51 yards and Lucas Nichols with four receptions for 44 yards.
Austin Riley's fourth quarter interception off of back up quarterback Ben Settle was run back 55 yards for the Marshals only score of the game.
The Colonels led 13-0 at the end of the first quarter, scoring coming on a 10 yard run by Leavell and a one yard run by Jadonavin McNeal. They added 10 more points in the second quarter on a 33 yard run by Leavell and 28 yard field goal by Ben Settle.
The Marshals had two scoring opportunities in the second quarter, the first on a drive that ended at the three yard line and the second, a missed 29 yard field goal attempt and trailed 23-0 at halftime.
Christian County added 14 more points in the third quarter on Leavell's third touchdown of the game on a one yard run following a 51 yard drive and a 13 yard catch by Ja'Quon Long that led to a fourth quarter running clock with Riley's interception coming with just over six minutes remaining in the game.
The Marshals now 3-3 will face Graves County (3-3) at home next week. The Eagles have lost their last two games to Mayfield 45-31 and Friday suffered a district loss at Apollo 38-35. Both teams will be looking for their first district win.