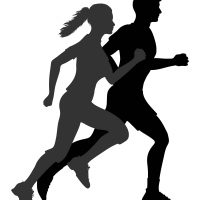 Residents are invited to run or walk in the third annual Boo Bash Kuttawa Mountain Dash scheduled for 8 a.m. Saturday, Sept. 23. Registration is at 7:30 a.m. for the 5K run/walk at the small pavilion in Silver Cliff Park just off Ky. 295 in Old Kuttawa. The first year's Boo Bash attracted more than 100 runners/walkers ranging in age from 70 to 2. Runners and walkers of all ages are invited to participate again this year, said Terrie White, organizer.
The registration fee is $25 "and every dollar raised will help pay expenses for the 18th annual Veterans Appreciation Luncheon and Program," White, the program's founder, said. The program is scheduled for 11 a.m. Nov. 3 at Lyon County High School gym in Eddyville. The luncheon is free for all veterans and their spouses.
The Boo Bash course will proceed east on Ky. 295 from the small pavilion to the Kuttawa Mountain trailhead, go up, across and down the mountain back to the starting point at the small pavilion.
Major Curtis Persinger, a former University of Louisville runner, crossed the finish line first last year in 18 minutes, 35 seconds. "That's probably one of the toughest hills I've ever run in a race," he said. "It was probably every bit of a half mile straight up and it was tough to recover after I hit that hill."
"Kuttawa Fire Chief Bill Compton and first responders will be back again this year to help us with the Boo Bash," White said, noting that last year, several runners said the visibility of emergency personnel made them feel safer.
For more information phone White at 270-625-0235 or email: cashw.@vci.net  or you may also find the Boo Bash on Facebook at www.facebook.com/theveteransprogram.