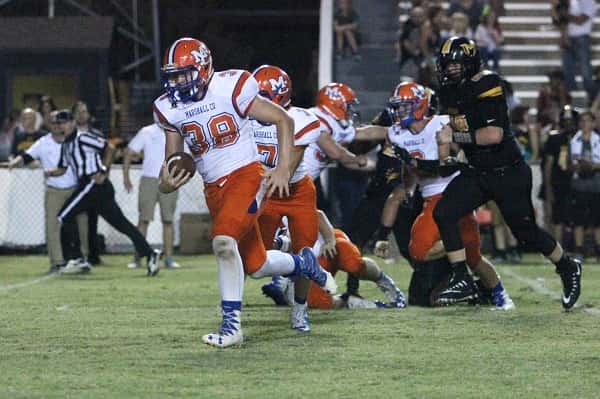 Last season's 42-3 win over Murray snapped the Marshals three-game losing streak to the Tigers but Friday's 52-35 win marked the Marshals first win at Ty Holland Stadium since the 2003 season when they won 24-21. This was the eighth meeting since the 2003 season, not playing from 2007 to 2012, and in 2005 the Marshals beat Murray in a game played at Murray State's Stewart Stadium.
"Really proud of our guys…this is a win that kind of gets a monkey off our back…it's been 14 years since we won here", Coach Evan Merrick said.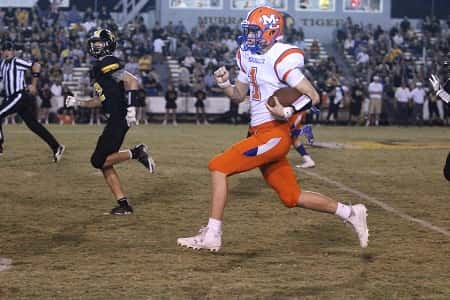 The Marshals scored on their second possession of the game, a drive that began at their own 30 yard line with a 35 yard pass from Skyler Smith to Grant Utley, a 13 yard gain by Lucas Nichols and another 13 yard pass completion to Tyler Stevenson with Smith scoring the touchdown on a keeper from the two yard line. Chet Cretsinger added the extra point for a 7-0 Marshall County lead at 5:43 in the first quarter.
Murray tied the game on their next possession on a 53 yard drive that ended in a six yard touchdown run by Chase Merriss, just the start of his 212 rushing yards in the game.
The second quarter began on a 30 yard run by Green to the three yard line and another three yards for a touchdown for a 14-7 Marshall County lead that was brief as the Tigers tied the game again on a 62 yard drive, capped off with a 12 yard touchdown pass from Hunter Utley to Avion Cavitt.
Murray fumbled on their next possession, picked up by Dawson Smothers who went the 30 yards into the end zone for a touchdown with Cretsinger, who was perfect in the game in point after attempts, added the extra point for a 21-14 lead with 5:41 to go until halftime.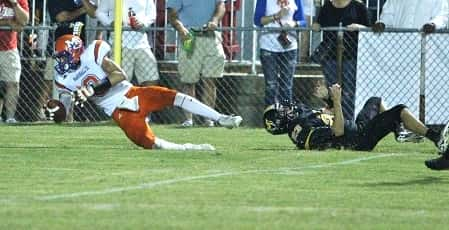 Murray tied the game at 21 on a 10 yard run by Merriss, leaving the Marshals with 2:25 on the clock to work with and great field position. A couple of penalties canceled out their forward progress, before a complete pass from Smith to Ty Buchmeier for a gain 24 yards to the six set up a six yard touchdown pass to Stevenson and a 28-21 lead with the extra point kick added by Cretsinger with 7.4 seconds until halftime.
Murray scored right out of the gate in the second half on a 33 yard run by Mark Thompson and the teams were tied again at 28-28.
The Marshals scored the next 24 points of the game starting with a 24 yard field goal by Cretsinger followed by two big scoring plays by Nichols on a 91 yard pass from Smith and a Tyler Stokes keeper for a 71 yard touchdown and their final trip into the end zone on a 48 yard run straight up the middle by Matt Holmes to take a 52-28 lead.
Murray's final touchdown came with 2:19 left to play on a 58 yard pass from Utley to Cavitt.
A big night offensively with 547 total yards for the Marshals, while Murray had 344 offensive yards, the majority on the ground with 260, 212 of those by Merriss on 29 carries.
"As the game wore on we got better at stopping the run…that's one of the things as the season wears on we've got to get better at doing", Merrick said. "I thought we found some answers to that in the second half but when we needed something the offense always gave us a big play."
Green led in rushing for the Marshals with 163 yards on 21 carriers, Stokes had four carries for 78 yards and Holmes two for 50 yards. Smith's 199 yards in the air were from 13 completions on 21 attempts, four to Nichols for 101 yards and four to Utley for 53 yards. Utley for Murray threw for 84 yard, almost all of those to Caviett who had six receptions.
Merrick feels like the team is playing their best ball at the right time, heading into the district stretch with big plays by the offense and the defense making big stops when needed.
"The challenges get bigger every week, the games get bigger every week and to this point our guys keep responding so we want to keep that going forward", Merrick said.
The Marshals will head to Christian County to play the undefeated Colonels in their first district game of the season. Ranked #4 in last week's 5A poll, the Colonels had a bye week on Friday.
| | | | | | |
| --- | --- | --- | --- | --- | --- |
| Marshall |  7 |  21 |  17 |  7 |  52 |
| Murray |  7 |  14 |   7 |   7 |  35 |