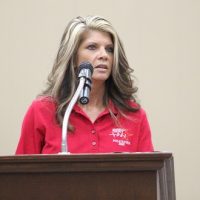 Marshall County Fiscal Court will have the final say as to whether its 911 director will remain in the county's employ.
Marshall County 911 Director Misti Drew filed an appeal today in response to a notice to terminate her employment issued by Judge-Executive Kevin Neal Tuesday, Sept. 5. Drew, who has served as department head for the county's emergency dispatch services since 2015, said in a previous interview she was told she had not met job performance expectations. According to county policy, Drew had until the close of business Tuesday, Sept. 12 to file an appeal.
County commissioners will address the matter when the fiscal court convenes Sept. 20 in Benton.
The county's 911 enabling ordinance gives the county judge-executive appointing authority for the director's position, subject to approval from fiscal court; the judge may terminate employment without approval, however. The director may choose to file an appeal, which would be subject to fiscal court review. Should the director choose not to do so, termination becomes effective.
Drew was appointed to serve on the state animal control board by Gov. Matt Bevin in August and is the former District 3 county commissioner.