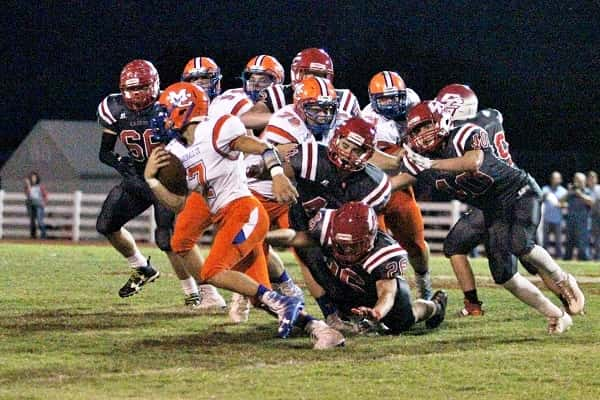 In their 30th meeting on the gridiron Friday, the Marshals picked up their 25th win over Calloway County with a nice balance of offense, on the ground and in the air, with nearly 400 total yards of offense in their 49-7 win.
"We're continuing to improve as weeks go by", Head Coach Evan Merrick said. "I thought several guys had a good night tonight. Offensively we did a very good job. It was a good team win."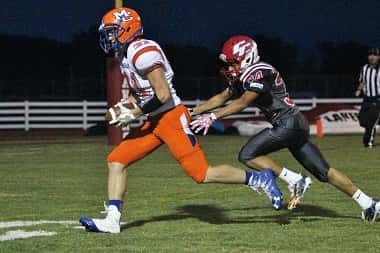 The first score of the game for the Marshals came on a three yard pass from Skyler Smith to Grant Utley with the extra point kick tacked on by Chet Cretsinger at the eight minute mark in the first quarter.
The Marshals scored again in the first quarter on a Mason Green one yard touchdown run, preceded by carries from Ty Buchmeier, Matt Holmes and Green and pass completions to Lucas Nichols and Grant Utley on the 69 yard drive for a 13-0 lead.
A 26 yard touchdown pass from Smith to Dylan Walters and two point conversion run by Austin Riley put the Marshals up 21-0 early in the second quarter with their final first half touchdown coming after a fumble recovery by the Marshals at mid field, followed by a 42 yard reception by Walters with Riley scoring on a four yard run and keeper by Smith for the two point conversion and a 29-0 lead with just under seven minutes to go in the first half.
Calloway County scored their lone touchdown in the game on a four yard pass from John Foster to Bryce Yeager that capped off a 64 yard drive that took six minutes off the clock.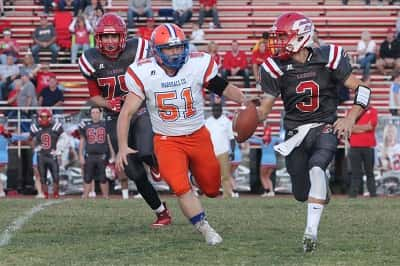 The Marshals final possession of the first half was filled with multiple penalties, two complete passes to Utley and one to Lucas Nichols before the first half expired on a 29-7 lead.
Receiving the second half kick, the Marshals scored their fifth touchdown on a 12 yard pass from Smith to Ty Buchmeier, a 69 yard drive that was highlighted by three carries by Green for a gain of 32 yards. Ben Burkeen kicked the extra point for a 36-7 lead at 11:11 in the third quarter.
A 14 yard touchdown pass from Smith to Nichols following a 43 yard rush by Green put the Marshals up 42-7 and a final touchdown came on an interception by Riley who went 99 yards for the score, the extra point good by Burkeen to lead 49-7 with 2:19 remaining in the third quarter.
A running clock finished up the fourth quarter, quickly closing the game out on the Marshals second win of the season for a 2-2 record while the Lakers fall to 0-3.
"We're excited about where we are, we'll continue to improve, continue to get better and get ready for Murray next week", Merrick said.
There were lot of penalties called in this one, 13 on the Marshals for 112 yards and 13 on the Lakers for 110 yard.
Smith had four touchdown passes in the game, completing 12 of 19 for 200 yards and no interceptions. His receivers were Walters 2/76, Utley 4/61, Buchmeier 3/42 and Nichols 3/24. The majority of their 183 yards of rushing came from Green who picked up 124 on 10 carries.
Calloway had 181 total yards of offense, 129 of those in the air by a combination of Foster and Zachery Orange, competing 12 of 27 attempts for 129 yards.
Next Friday will take the Marshals back to Calloway County to take on Murray.