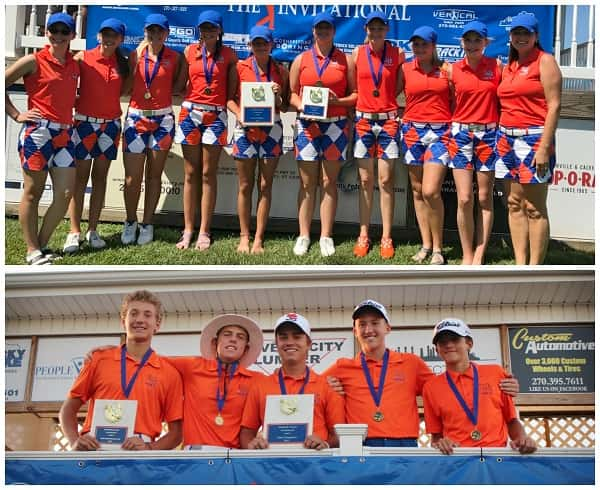 Marshall County's boy's and girl's teams both celebrated wins Saturday at the Marshall County Invitational golf tournament hosted at Calvert City Country Club. The boy's nudged out McCracken County for first place by one stroke in a field of 17 teams while the girls won by 17 stokes over McCracken County.
Due to the success and size of the tournament, it was split into two tournaments. The girls played in the morning session while the boys played in the afternoon.
Payton Carter of Henderson County won medalist honors among the girls with a 2-0ver 74, Shelby Darnell of Madisonville was second with a round of 76 and Marshall County's Savannah Howell took third with a score of 77.
Following Powell's round of 74, Jay Nimmo shot 76, Camdyn McLeod 78, Nathan Clark 87 and Grant Hackney 89. The Marshall 'B' team shot 413 led by Drake Butler with 90, Nick Dowdy 102, Teddy Wynn 103 and Ben Staples 118.
For the girl's, Megan Hertter shot 79 behind Howell's 77, Hallie Riley 82, Sidney Phillips 88 and Kennadi Spraggs 89. The Lady Marshals 'B' team scores came from Kenley Luksic 86, Katie Stokes 101, Leah Vincek 117, Erica Riley 118 and Laney Hoskins 120.
Coach Keith Bell was proud of the team and the way they finished today's tournament after talking about mental toughness.
"The course was in really good shape even with the rain we had earlier in the week", Bell said. "Tyler Powell played well  and led the Marshals… I thought he played with confidence throughout the day. Jay had one bad hole but he kept battling and was able bring in a good score. Camdyn McLeod played well also which should also improve our chances in the regional tournament."