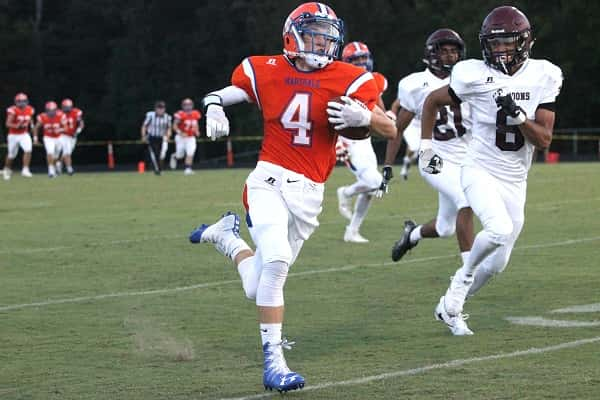 Playing their first home game of the season against Madisonville, the Marshals hoped to win their home opener for a second straight year. The two teams haven't played since the 2008 season when Madisonville won 36-12. After receiving the opening kick, Mason Green took the ball 64 yards for a touchdown on the first play from scrimmage and with the extra point added by Chet Cretsinger, the Marshals led 7-0 just over a minute into the game.
The Maroons tied the game 7-7 on a 74 yard drive capped off by an 11 yard touchdown run by quarterback Dan Fulton and extra point tacked on by Will Sanderson.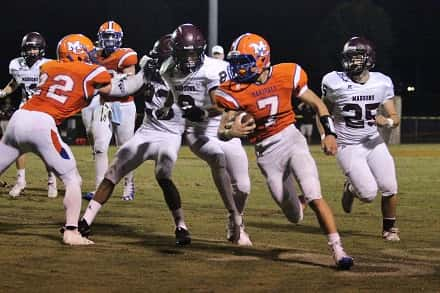 Forced to punt on their next possession, the Marshals held Madisionville at the nine yard line on their next series, taking over on downs. Quarterback Skyler Smith connected with Lucas Nichols for a 64 yard pass that was brought back on a holding penalty against the Marshals and four plays later, Smith was intercepted by James Gilbert to end the drive.
As the second quarter began, Grant Utley came up with a fumble and ran it 85 yards for a touchdown and a 13-7 Marshall County lead. Madisonville tied 13-13 scoring at 8:14 in the second, despite a drive stalled out with two holding penalties.
An interception by Nichols on Madisonville's next offensive drive gave the Marshals a chance to score before the half. A holding penalty and two incomplete passes later and they were facing third and 17. On the next play, Madisonville was called for pass interference, which set the Marshals up with third and three yards for a first down, then faced fourth and one but opted to punt with 1:40 to go in the half. A last-ditch effort by Madisonville fell short as time ran out on the first half tied 13-13.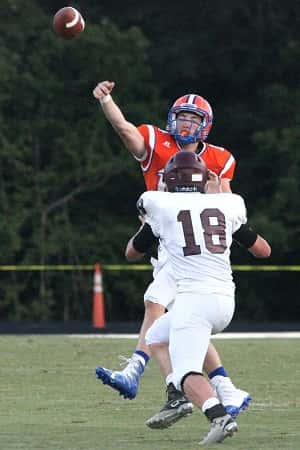 After receiving the second half kick off, Madisonville put together a 55 yard drive that resulted in a two yard touchdown run by Jariah Hightower and the Maroons took the lead for good at 20-13.
Marshall County gave the ball up on downs at their own 43, giving Madisonville great field position for Hightower to go to work again with two straight gains of 14 yards followed by a 16 yard touchdown run by Aaron Miller to go up 26-13.
Sophomore quarterback Tyler Stokes took the snaps on the Marshals next series, completing passes to Ty Buchmeier and Dylan Walters before connecting with Austin Riley for a 32 yard touchdown. Riley ran in the two-point conversion and the Marshals were back in it trailing 26-21 with 1:39 left in the third quarter.
It was all Hightower again on Madisonville's next drive, scoring on a three yard run on a keeper by Hayden Reynolds and two point conversion from Miller to lead 34-21 with 8:44 left in the game.
Blain Bizzle gave the Marshals good field position on the kick return to midfield with Smith back in over center, completing passes to Jackson Beal for 29 yards, Tyler Stevenson for a gain of eight, Green picked up nine more yards with Smith scoring on a one yard keeper. Stokes ran in the two point conversion to close Madisonville's lead to 34-29 with 6:13 to go.
Needing a defensive stop on Madisonville's next series from their own 47, the Marshals couldn't stop the run. Fulton, Hightower and Miller combined to move the ball 53 yards into the end zone, getting the two-point conversion to lead 42-29 with 4:20 left on the clock.
No able to get much going offensively, the Marshals turned the ball back over with 2:50 to go and Madisonville ran the clock out on their first win of the season.
"Offensively I thought we did well moving the ball, we did some different things on ground and scored on the first play from scrimmage…that was a big boost for us going in", Head Coach Evan Merrick said. "The frustrating thing is getting the ball run on you like we did and there's not a lot you can do if you can't stop the run. Hats off to Madisonville, they played hard."
Merrick said they would try to learn from it and move on and thought the effort was good adding, "When you've got effort you can build off of that. It's frustrating to be 0-2, it's not where we want to be but you've got to get ready for the next game and we'll start right away and get ready for it and try to get a positive momentum going.
The Marshals will host Ballard Memorial on Friday in the Hall of Fame game.
| | | | | | |
| --- | --- | --- | --- | --- | --- |
| |  1  |  2  |   3  |   4  |  Final  |
| Madisonville  |  7 |  6 |  13 |  16 |    42 |
| Marshall |  7 |  6 |   8 |   8 |    29 |
RUSHING: Madisonville 489, Marshall 131
Madisonville: Hightower 25/210, Miller 13/132, Reynolds 9/79, Fulton 5/39
Marshall: Green 19/136
PASSING: Madisonville 89, Marshall 203
Madisonville: Fulton/Reynolds 6/10 (67 yds)
Marshall: Smith 10/19 (160 yds), Stokes 2/3 (43 yds)
RECEIVING:
Madisonville: Miller 2/34, Buntin 4/33
Marshall: Nichols 1/62, Buchmeier 2/43, A. Riley 1/41, Beal 1/29, Walters 1/12, Stevenson 1/11, Stokes 1/11
TACKLES:
Marshall leaders: A. Riley 27, Smothers 16, Buchmeier 11, Beal 8