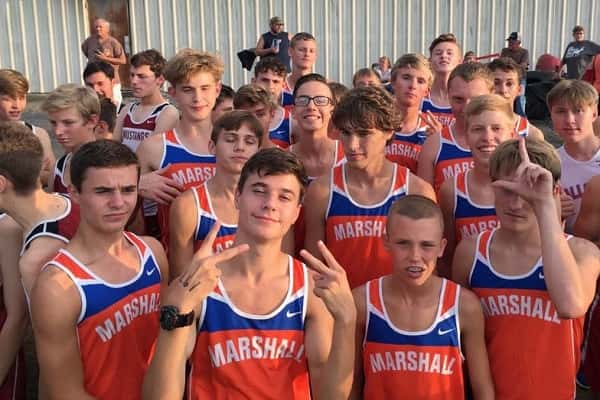 Cross Country season began for the Marshall County team at the Calloway County 3k Opener Tuesday with both teams taking first. Marshall County's Mason Cosner won the boy's race in a field of 79, crossing the finish line in 9:55.93 and Alexia Minter placed second for the girls out of 68, stopping the clock at 12:29.31. Madelyn Waltmon from St. Mary won the girl's race in 12:21.91.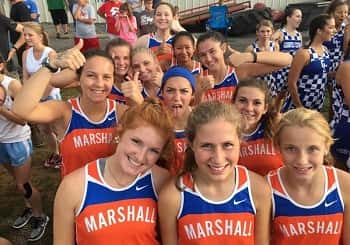 Among the six boys teams and five girls teams, behind Marshall County in first, Graves County was second and McCracken County placed third.
Marshall County boys took four of the top five spots following Cosner's first place, Ethan McCarty was third with a time of 10:16.47, Christian Cosner fourth in 10:29.18 and Matt Ray fifth in 10:38.44. The girls placed three in the top five behind Minter in second, Gabbi Lovett placed fourth in 13:07.14 and Tarryn Story fifth with a time of 13:27.90.
Marshall County had six runners in the middle school division. Kendra Pugh had the best finish for the girls in 25th and for the boys, Ty Swope crossed in 45th. Also racing – Elizabeth Barrett, Emma Kate Whirley, Andrew Lanham and Zach Artis.
The team will hold their annual Run-a-thon fundraiser Friday during the first home football game when the Marshals play Madisonville.
Complete Marshall County varsity results:
| | | | | |
| --- | --- | --- | --- | --- |
| | BOYS RESULTS | | | GIRLS RESULTS |
| 1 | Mason Cosner | | 2 | Alexia Minter |
| 3 | Ethan McCarty | | 4 | Gabbi Lovett |
| 4 | Christian Cosner | | 5 | Tarryn Story |
| 5 |  Matt Ray | | 9 | Bailey Sandlin |
| 7 | Samuel Lanham | | 19 | Haley Ford |
| 8 | Ethan Dowell | | 30 | Zoe Short (middle) |
| 13 |  Curtis Bradley | | 31 | Laney Beth Jones (middle) |
| 15 | Cole Wyatt | | 41 | Kelyn Mannon |
| 16 | Knox Sandlin | | 45 | Chloe Kerrick |
| 28 | Alex Colburn | | 46 | Larissa Holt (middle) |
| 34 | Isaiah Kirby | | 49 | Chloe Newton |
| 40 | Kyle McClain | | 52 | Bella Barrett |
| 46 | Justin Wilson | | | |
| 51 | Avery Minter | | | |
| 53 | Devon Bradley (middle) | | | |
| 61 | Thomas McLean (middle) | | | |
| 62 | Aidan Clinton (middle) | | | |
| 64 | Ru Jones | | | |
| 71 | Cameron Wiles | | | |
| 78 | Grady Ward | | | |