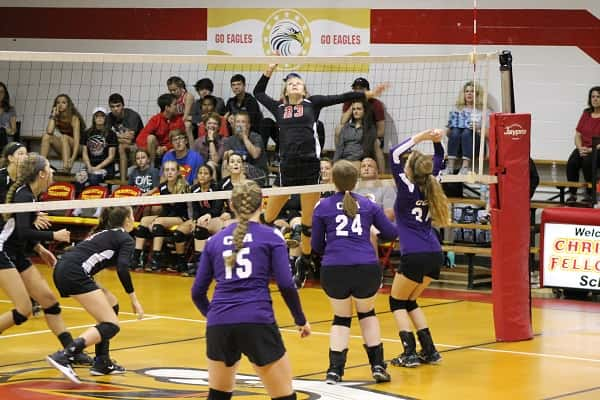 The Lady Eagles are off to a 3-0 start this season with wins over Hickman County, Tilghman and CCA and will play inner-county rival Marshall County on Thursday. The Lady Marshals are 1-1 in the early season, a re-building year after graduating six seniors from last years squad, with a loss to Ballard Memorial and a win over Calloway County.
Tuesday against long-time rival Community Christian Academy, the Lady Eagles handed the Lady Warriors their first loss of the season in three hard-fought sets, 25-19, 25-22, 25-21. Led at the net by Abigail Cima with 18 kills, Emma Fletcher had 10 kills, Maggie Wagner seven, Sarah Muller three and Lex Hovekamp with two.
Five service aces in the win came from five different players – Fletcher, Emma Alexander, Cima, Wagner and Hovekamp while Muller earned four blocks and with one each by Cima and Wagner. Alexander was credited with 34 assists in the game.
Last Thursday, the Lady Eagles beat Paducah Tilghman in three straight sets, 25-11, 25-13, 25-19. Wagner led in kills with eight, Cima followed with six, Fletcher had five, Muller four and one each by Hovekamp and Ali Durret.  CFS combined for 12 service aces, two each by Fletcher, Muller, Cima and Wagner and one by Alexander, Hovekamp, Brecksyn Etheridge and Kenzie Murdock.
Wagner had four blocks at the net and Alexander led in assists with 14, three assists to Murdock, Etheridge two and one each by Wagner and Jamie Jackson.
Thursday's game at Marshall County will began at 5:00 with the freshman game followed by JV and Varsity matches.